Manchester's best pubs, where architectural design packs as much punch as the booze – rated by guest blogger Dan Feeney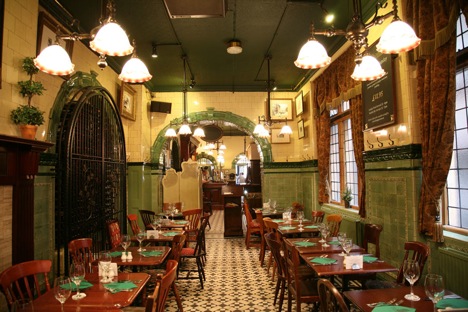 The humble public house is often portrayed as a den of iniquity – a site of bar-room brawls, uncouth revelry and fizzy lager. This is not quite a fair representation of the traditional pub, however. A beer house can also be a place of great architectural merit, as well as a venue for quiet reflection over a newspaper and a pint of real ale. In fact, there are few things better than chancing upon a venue whose design packs as much punch as the drinks it sells, and Manchester is home to several.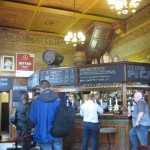 1. The Marble Arch
First up is The Marble Arch on Rochdale Road, the home of Manchester's ubiquitous city centre brewers, Marble Beers. This 1880s public house is Grade II listed and stands out as a fine example of Early Victorian architecture, opening a window onto the styles and habits of the age. Stepping through the front door, gravity itself encourages you to visit the bar, as the sloping floor leads straight to the fine selection of hand pumps. With pint pot in hand, the thoughtful drinker can sit and admire the glazed tiling of the main bar, complete with cornice-level listings of the tipples that once delighted the original clientele. Keep an eye out for the numbered Marble beers, which are often short run batches of single hop beers.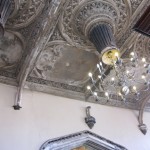 2. The Crown & Kettle
Around the corner and down Great Ancoats Street another architectural gem comes into sight: The Crown & Kettle. Legend has it that this building was originally designed as a law court, and once you've seen the ceiling this makes sense. It features candelabra-esque affairs that hang from massive wooden cues, which in turn emerge from plaster busts and leaves. This is a serious ceiling, though unfortunately it's not in perfect condition. After it was damaged (in an arson attack that closed the pub for 15 years), English Heritage required it to be enclosed in netting to prevent plaster falling into your pint. This seems a shame considering that the vault has been adorned with a glorious green, red and gold paint job that highlights the building's ornate features. Either way, admiring the ceiling and the striking arches above the bar area is a rewarding experience, especially if done whilst enjoying a pint of Owl's Amber Light.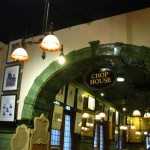 3. Mr. Thomas' Chop House
Striking on towards Cross Street, and stepping into Mr. Thomas' Chop House is akin to entering a museum's mock-Victorian street scene. Once again burnished tiles gleam, here in fine hues of green, alongside deeply polished wood and a tiled floor. The late 19th Century purple and coral light fittings lend an air of sophisticated gravitas to the dining room, whilst the muted globe lighting which bookends the bar is reminiscent of the art deco-styled ballroom in The Shining. Nursing a pint of Black Sheep's Best Bitter, the interested drinker can also view the range of contemporary art that currently adorns the walls, in striking contrast to the tiled background. Little wonder the Duke of Milan and King of Naples were so taken with the place when they visited in 2007.
Fancy a tipple elsewhere? Other venues of note for the architecturally aware include The Old Wellington in Exchange Square, a medieval building of historic significance, and The Athenaeum on Spring Gardens, a lavish, marble-clad former bank. The historic and architectural significance of all of these public houses is clear; their ongoing commitment to real ale and the needs of drinkers is to be applauded. Next time you have a free afternoon, grab a good book and give one of them a try.
Dan Feeney runs the Manchester based fanzine, website and club night Pull Yourself Together, and writes the public art/ city walking blog in a town so small. Images: all Dan Feeney except main image, courtesy Barnaby Aldrick/The Victorian Chop House Company.