Walkden Gardens
Desmond Bullen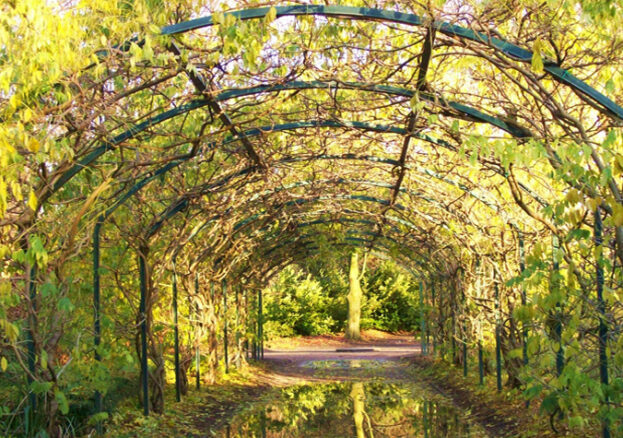 Walkden Gardens in the Manchester suburbs has all the makings of a fairy tale garden.
Secrets are their own enchantment. Set apart from the Manchester suburb of Sale's more obvious distractions is a garden whose very unexpectedness is part of its charm. Known locally as The Secret Garden, Walkden Gardens echoes its counterparts in children's novels: happened upon for the first time, it can feel at once too extensive and too unreal to be hidden by nondescript suburban streets.
Fittingly, the gardens are a gift. Harry Walkden, a noted hybridist of golden rod and orchids, left them as a bequest to Sale Borough Council, with the stipulation that they be put to use for the public good. The current – entirely voluntary – Friends of Walkden Gardens and their predecessors have honoured this stipulation in ground and vision.
It can feel at once too extensive & too unreal to be hidden by nondescript suburban streets
Inspired by the Arts and Crafts garden at Hidcote Manor in Gloucestershire, the grounds are made up of a series of "rooms", each with their own character; intertwined but distinct. These subtle disconnections are disorientating and dream-like, so that it is possible, even after repeated visits, to feel vaguely – if pleasantly – lost. A ceramic and pebble Compass Point, visible from the garden entrance, steadies the feet.
Each explorer will find a nook or two that appeals, whether it be the stone tranquility of the Japanese Garden or the blooming promenade beneath a wisteria arch. It would take a brick heart not to be charmed by the dovecote, however. Originally built on the site of Sale Old Hall, this beautiful, circular building was spared demolition in 1920 by virtue of its Grade II-listed status. It survived the twin indignities of motorway traffic and graffiti, until it was moved – stone by stone – to the more sedate surroundings of Walkden. Set amidst the garden's humble acreage, the dovecote's pointed dome hints at fairy tale turrets.
Making especially apt use of the storybook charm of this secret garden, seasonal shows including Peter Pan And The Lost Boys from Sale's own Waterside Theatre and Heartbreak Productions have beguiled the public over recent years. As a venue, it's hard to imagine a more magical gateway to the realm of theatre. Year round, however, Walkden Gardens is a wonderful escape from Manchester, only a short(ish) stroll from the Brooklands stop on the Metrolink. Like the very best enchanting stories, this is one you'll want to whisper in the ears of your friends.