Treetop Trek Heaton Park
Polly Checkland Harding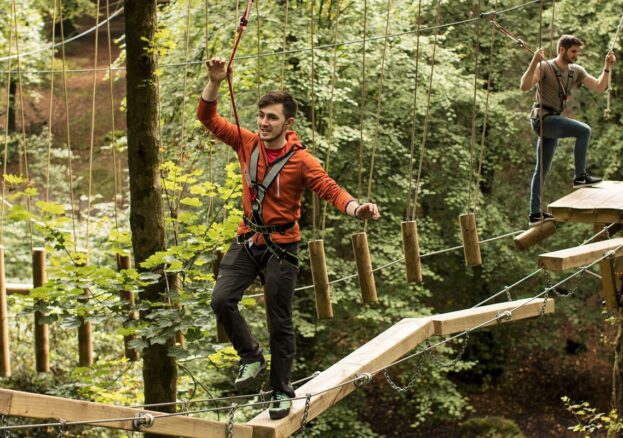 An aerial adventure in the canopy of Heaton Park's majestic trees, Treetop Trek lifts you high above ground on an obstacle filled high ropes trail through the park's stunning woodland. Adults and juniors over seven years' old can attempt the Full Trek, which takes around two hours and reaches a maximum elevation of 18 metres. This incredible high ropes adventure features 20 aerial challenges to navigate, including balance bars, swinging logs and Indiana bridges, interspersed with 14 separate zip lines to fly you through the leaves. The adventure combines a physical challenge with a unique view of Manchester's Heaton Park, the beautiful woodland, and the people down below.
Alternatively, the Mini Trek is a good way to try your hand at an aerial adventure without committing to the length and height of the Full Trek. Spanning a lower level at a maximum elevation of eight metres, the Mini Trek takes around an hour to complete, with eight aerial challenges and five zip lines to fly down along the way. It's also suitable for juniors over the age of five. The Treetop Nets, meanwhile, welcome children over three and are the perfect area for free play: giant bouncy nets, five slides, two tree houses and two ball parks span 2,000 square metres amongst the trees, linked by a network of open air tunnels.
Treetop Trek was a Day Out With The Kids Family Favourites Award winner for Best Active Day Out in 2018, with a combination of 20,000 public votes and industry experts helping to crown that year's winners. Bookable for parties and school trips as well as being host to special, seasonal events, this adventure activity in the beautiful setting of Heaton Park is a fantastic challenge for ages three and above.