Heaton Park
Polly Checkland Harding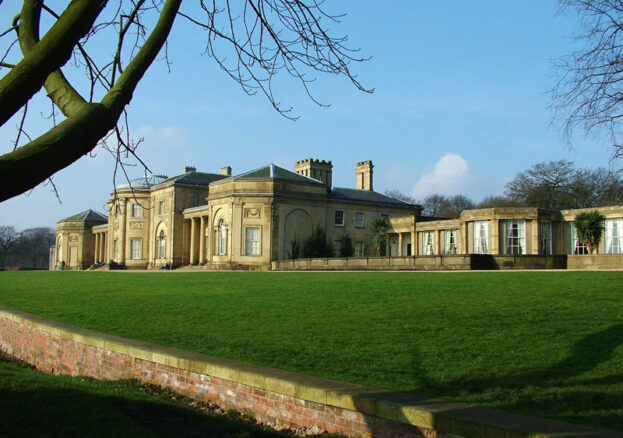 The highest point in Manchester is also one of its most picturesque. Don your hat and mittens, dodge the alpacas and make for Heaton's hills.
Heaton Park's Temple – a small circular structure with a breast-esque dome and Tuscan columns, designed in 1800 – was built on the highest point in Manchester. Scale the hill it sits on and you can see (and be seen) for quite a distance. It gives a unique view of the green fells that surround the city, as well as being an iconic spot: Heaton's Temple was featured in none other than the 1981 TV series, Brideshead Revisited.
It's also the ideal place to take a photo to remember the climb by, something that Brideshead's Sebastian Flyte might have approved of: in Evelyn Waugh's book, Sebastian says "I should like to bury something precious in every place where I've been happy and then, when I'm old and ugly and miserable, I could come back and dig it up and remember." Though Sebastian wanted to plant his treasured experiences in the ground, rather than recording them on camera, the sentiment still stands – and with its great wide lawns, lake and trees, Heaton Park's 600 acres are perfect for making and remembering memories.
It's not often the Nativity features alpacas and peacocks giving baby Jesus the squint
Heaton's appeal starts young, with an Animal Centre that, alongside the traditional complement of farmyard animals – cows, goats, rabbits, poultry, sheep and donkeys – boasts some more exotic species. It's not often the Nativity features alpacas and peacocks giving baby Jesus the squint, but, at Heaton, they're part of the family. The peacocks, like the park's deciduous trees, showcase full plumage in the summer months but shed their long feathers in winter. There's a good chance of picking one up to take home and, unlike a leaf, it won't end up crumbling into the carpet.
Also seasonal are Heaton's ice skating rink (housed in a fairy-lit marquee) and rowing boats, which are in action only when the weather permits. Although Heaton has taken a funding-cuts hit of late, the park's other activities are still going strong, with beekeeping, astronomy evenings, angling, bowls, yoga, a fully-functioning electric tramway, croquet and, for pitchers and putters of whatever age, golf, still all laid on. Opened in 1912, the Heaton Park 18-hole circuit has won two awards for best municipal course and offers a bar and shop – and views over the Pennines. If you want to pack a day as full as it will go and not have to haul your memories (and body) all the way home in the evening, the park's 18th-century Smithy has been done up as accommodation for the night.
Yet even the simplest trip to Heaton has its own attraction. Walks in winter can be magical – the pleasure of stamping on an icy puddle, cracking it like a crème brûlée, is hard to beat. Studying leaves veined with frost, skimming stones across a lake threadbare with ice and trying to tip snow down someone else's neck all feel like an important part of childhood – and something not to be forgotten when you're no longer running around in stripy mittens. With a tram stop nearby, Heaton Park is lazily easy to get to, so there's nothing stopping you from rediscovering splendour in the grass and glory in the flowers. When few good things in life come this cheaply, a trip to Heaton Park is well worth it: if only to remember delight in small pleasures.