Titanic Spa
Johnny James, Managing Editor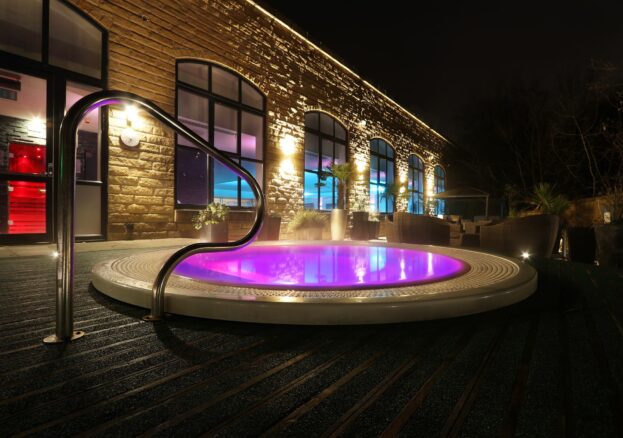 Positioned as 'the original pioneers of sustainability in the heart of Yorkshire', Huddersfield's Titanic Spa is a multi-award-winning destination spa that places equal emphasis on the wellbeing of its guests and the protection of the environment.
Set against the majestic hills of the Pennines, the beautifully restored 20th Century textile mill blends stunning architecture with state-of-the-art spa facilities and apartment-style accommodation. As the UK's first Eco-Spa, Titanic uses renewable energy systems including a solar panel roof and has its own natural water source 100 metres below the building. It also opts for eco-conscious beauty products that are free of nasty chemicals while promoting local, organic and fair trade ingredients as part of its food and drinks service.
There are 33 luxury apartments to choose from for overnight spa breaks. Elegantly styled and spacious, these sleep up to six guests, and feature one or two bedrooms, a lounge area with a TV and DVD player, a kitchen-dining area and a well-sized bathroom. Most apartments also have a balcony so you can step outside and enjoy the stunning panoramic views of the Yorkshire countryside. Apartments are fully serviced daily, and upon arrival you'll find towels, a continental breakfast and amenity products, along with all the kitchen appliances and utensils you'll need.
The main draw, of course, is the spa itself, which offers a wide array of packages aimed at leaving you relaxed and rejuvenated. From deep tissue massages that aid recovery following intense exercise to aromatherapy massages that promote a sense of calm, the massage treatments here are expertly tailored to your needs. There's also a range of facial treatments designed to boost the appearance and health of your skin, various body scrub and wrap treatments that hydrate and tone, plus hand and foot treatments that relieve tension and give your skin a more youthful appearance.
A visitor favourite is the mud chamber, which harnesses the therapeutic benefits of mineral mud to improve complexion, relieve rheumatic discomfort and remove toxins by encouraging blood flow to revive tissue and stimulate the lymph system. Inspired by ancient Egyptian bathing, this 25-minute spa experience takes place in a private herbal steam room, which opens your pores and helps draw out impurities. With plenty more treatments to explore on Titanic's website – from pregnancy spa packages to treatments specifically for men – there's plenty to keep you busy during your time here.
Titanic pride themselves on creating a memorable, luxurious experience, and will go out of their way to make your visit a special one. There's a reason why this place has gained a reputation as one of Yorkshire must-visit spas – their customer service, state-of-the-art-facilities, stunning location and eco-credentials combine to create a pretty impressive package. So if you're in need of a bit of a treat at the moment, you can't go wrong here.