Theatre Porto
Shekina Rose, Families Editor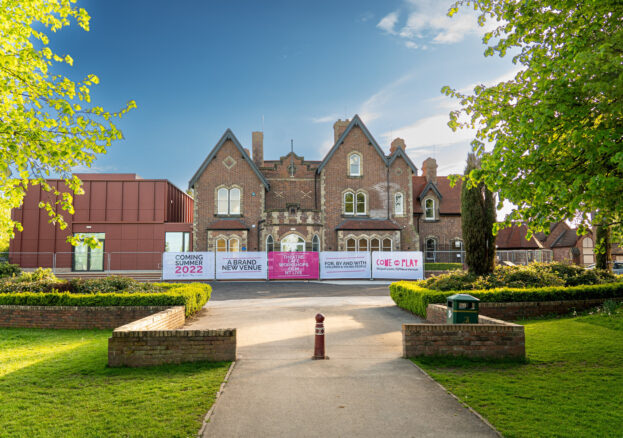 Cheshire's Theatre Porto (previously known as the Action Transport Theatre) has just reopened as a state-of-the-art theatre and contemporary cultural centre. It's the only specialist, purpose-built theatre and cultural centre for young people in Cheshire, and one of few across England.
After a £2.8M development funded by Cheshire West and Chester Council and Arts Council England, Theatre Porto opened on 10 August at Whitby Park, Ellesmere Port.
The theatre was created by children and young people, for children and young people, and even its new name 'Theatre Porto' was decided on after in-depth consultations with the local youngsters. The name is themed around playfulness, a sense of place, and at its core, children and young people.
There are a number of free events taking place at the Theatre Porto until 20 August to celebrate its opening. These events include a special extravaganza weekend on Saturday 13 and Sunday 14 August, featuring outdoor shows, walk-about performances, and exciting events alongside the 'Once Upon a Time…' art installation and adventure trail, all part of the new and exciting venue.
Councillor Louise Gittins, Leader of Cheshire West and Chester Council said: "I am so excited that the
wait is over, and the transformed Whitby Hall is ready to welcome audiences and performers again. I've
been following the work and I know how important this will be for the young people of Ellesmere Port and
across the borough.

This is far more than an investment in a building, it's an investment in our young people, the arts and
culture. This new cultural building will make its mark on young lives for many years to come. It is also the
start of many more plans for Ellesmere Port over the next few years".
We look forward to sharing events and activities taking place at Theatre Porto in the coming months, including 'The Chronicles' in October, an interactive fairy tale with words from poet and BBC 6 Music's Murray Lachlan Young, and in December, 'Star of Wonder' an original, festive show for everyone, co-created with children from local schools and Theatre Pomodoro. More events to be added soon.