St. Luke's, Liverpool
Susie Stubbs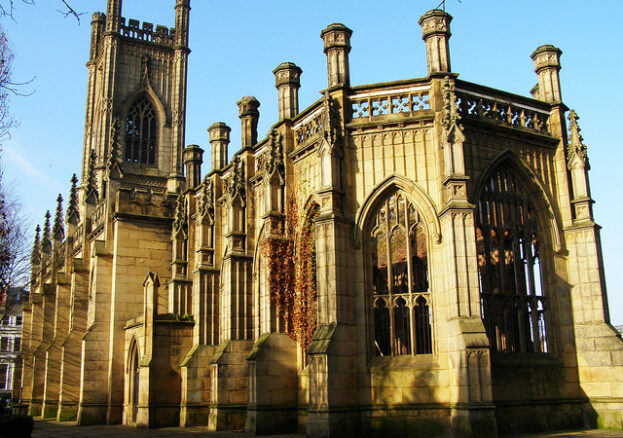 A semi-derelict church is a reminder of Liverpool's history – and an outdoor cinema, music and arts venue.
A subterranean network of tunnels, purpose unknown. A granite pyramid inside a churchyard, the final resting place of a man who insisted he be buried above ground. Liverpool is a city well versed in architectural oddity, yet for all its building-based quirks, perhaps its most poignant is St. Luke's church.
From a distance, this 19th-century church at the apex of Bold Street is handsome but otherwise unremarkable. Close up, it is anything but. It is bombed out. It has no interior. It is a building that took a direct hit from a German bomb in 1941 and which has, ever since, stood burned out and roofless, a skeletal memorial to the victims of the Blitz. Liverpool suffered more than most during WWII. Its port and location made it vital to the British war effort – and a magnet for German bombs. It was the most heavily bombed city outside London; the incendiary bomb that dropped on St. Luke's in May 1941 was one of many.
So, after the war it made sense to preserve what was left of St. Luke's: its walls and glass-less windows, surrounded by a small park, acting a reminder to thousands of Liverpool lives lost.
St Luke's is now commonly known as 'The Bombed Out Church' and hosts a variety of outdoors theatre, concerts, films and even a Garden Bar.