Salt Dog Slims
Christina McDermott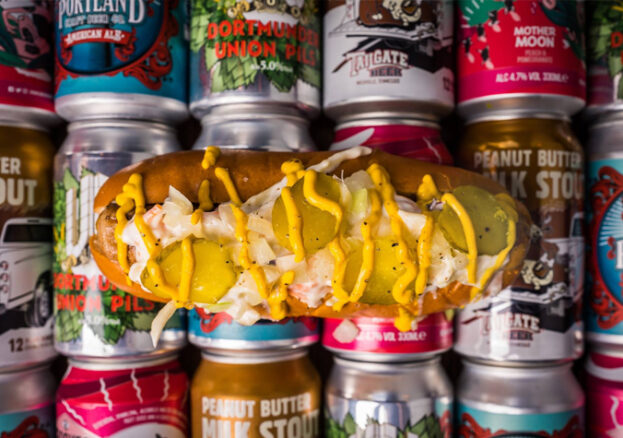 Part New York speakeasy, part Berlin cabaret club, the Seel Street bar brings the lethal combination of chilli dogs and beer to Liverpool.
In a city like Liverpool, where it can feel as though there's a new drinking establishment opening on every corner, it takes something unique to stand out (and we mean "unique" here, not another psychic night or Beatles karaoke extravaganza). But when a place like Salt Dog Slims appears on the scene, resembling a cross between a New York speakeasy and a Weimar-era Berlin cabaret club – complete with a fairy light-bedecked bathtub as a table – and promotes its wares as "steins and brines," it can't help but grab the attention of the city's more discerning booze hounds.
Situated at the foot of Seel Street, across from the Blue Angel (another infamous Scouse drinking den), Salt Dog Slims is the third bar to be opened by the rather clever chaps behind Santo Chupitos (arguably Liverpool's best cocktail bar) and El Bandito (almost certainly Liverpool's liveliest Tequila joint). True to form, it's sleazy, rowdy, raucous and, more often than not, rammed to the rafters. This is not a place to go to sip a sedate pre-theatre half pint. Owing to its rather bijou dimensions, getting a seat here usually warrants Pentagon-worthy strategic planning – or a least a bit of blind luck. But once you settle in, it's totally worth it. With a killer cocktail list and an even better craft beer menu, this is a bar where, once ensconced, you can kick back, admire the arresting bar staff, scoff a chilli dog or five and sing along to Rainbow's "Since You've Been Gone" without drawing too much attention to yourself.
As befitting an American-inspired bar, the range of craft beers is impressively all-encompassing, from Pabst Blue Ribbon to Brooklyn Lager. Those with a more robust constitution should opt for the "Dortmeister," a two-pint stein of beer that requires such upper body strength to lift that it could almost be counted as a weekly workout. If that sounds like too much effort, there's always the cocktails. We're fans of the Five Dollar Shake, a ridiculous combination of ice cream and neat spirits (the inclusion of Chambord making it a kind of boozy raspberry ripple) and the punningly named Salt Dog Millionaire, a concoction of rum, sloe gin, apricot brandy, passion fruit syrup and lime juice that's definitely not for the lily livered. They also do a mean chilli dog. Not just for soaking up all that booze (although they are great at that too), these American-style hot dogs are surprisingly tasty specimens: smoky, snappy and smothered in a deliciously piquant chilli. Eating them is an unavoidably sloppy experience, especially after a few of those steins. Fine dining this is not.
Bold, ballsy and brash, Salt Dog Slims is the place to go if you're looking for an unpretentious night out. But leave any airs and graces at the door: when you step through that velvet curtain, things will get messy – and we're not just talking about the chilli dogs.