Bombed Out Church Garden Bar
Stephanie Heneghan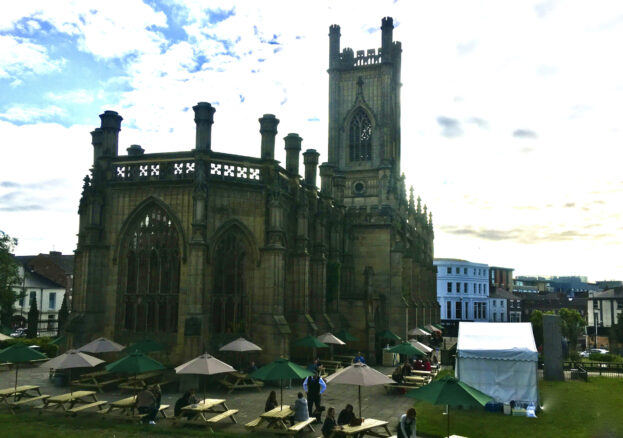 In the summer of 2020, the beautiful Bombed Out Church opened up its grounds to accommodate a new drinking area known as the Garden Bar. Fully seated, with huge umbrellas that cover the whole table (great for sudden downpours), it's a stunning location to sit in and enjoy a drink.
The hospitality industry has adapted magnificently to the new regulations imposed upon them. The Liverpool without Walls scheme focused on making the most of the outdoor space in the city, quickly. It's heartening to see the creativity and flexible thinking being implemented.
As you walk in, reception directs you to a table and explains how it all works. QR codes are finally having their moment in the sun: to view the menu you hold your phone over a code and are then directed to a website where you can make and purchase your order.
It's all table service and you're asked to reuse your glass throughout your visit (saves on waste and contact). It's a very civilised way of socialising. If you want something to eat, Turncoat Pizza is onsite and you can order to your table.
It's impressive how quickly it was put in place and also how relaxed it all feels, like it's always been there. Also, the real praise has to go to the staff who are friendly and attentive and go a long way to ensure it's a comfortable experience. A reminder that no matter how beautiful the location is, it's the people that make it (so tip generously).
We've got high hopes that the Garden Bar will return to St Luke's in 2021; plans are already underway for an outdoors theatre festival and cinema nights at the same venue.