Simon Radley, Chester Grosvenor
Vicky Andrews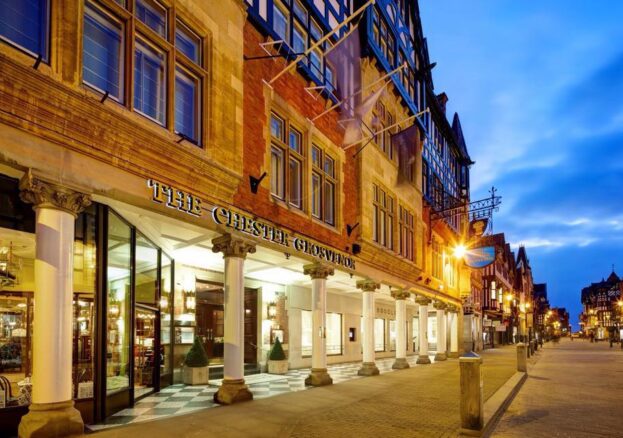 Chester is renowned for its fabulous food and drink scene and a visit to Simon Radley at The Chester Grosvenor should be top of your bucket list if it's your first time in the city.
There isn't another Michelin-starred restaurant within 30 miles, so it's no wonder that this place continues to draw an enthusiastic following from plenty of regulars too, having held its Michelin star since 1990 alongside an additional 4 AA Rosettes.
Manchester-born Radley has been head honcho here for over 20 years and his cuisine is heavily inspired by classical French training in Mâcon, via stints in London, Hong Kong and Bangkok. He's also worked a fair bit around the North West and is a champion of regional produce, keeping up good relationships with producers and a watchful eye on the quality.
The restaurant is inside a beautiful building, albeit a little old-fashioned, but that's all part of The Chester Grosvenor's traditional appeal. You're here for fine dining and that's underlined in the booking terms; smart attire is preferred, no children under 12 and mobile phones on silent. Thank goodness for that.
An a la carte option is available but choosing that would be like celebrating Easter at Christmas, and the eight-course tasting menu is very reasonably priced at £79 on Wednesday and Thursday, £99 Friday and Saturday. It's deserving of every single accolade and features dishes such as Cod Cure (oyster cream, clams, mussels, Delamere saffron), Diver Scallop (stuffed pig's foot, hocks, chicory, mustard and blonde beer) and Bill to Quill (Merrifield duck on the crown, ragout, lentil and honeycomb).
You'll also be treated to dessert, pre-dessert and a fancy fromage selection, not forgetting the legendary bread trolley, an act that never gets stale. There's a generous break between courses which gives you plenty of time to fully appreciate the extensive selection of worldly wines (wine flight, £55 per person) or just soak up the elegant surroundings.
Staff are knowledgeable and passionate, engaging in a faultlessly choreographed routine throughout the evening. Simon Radley at The Chester Grosvenor is a showstopper from start to finish and one of the region's brightest stars. Tables go months ahead so book early!