Weasel and the Bug
Vicky Andrews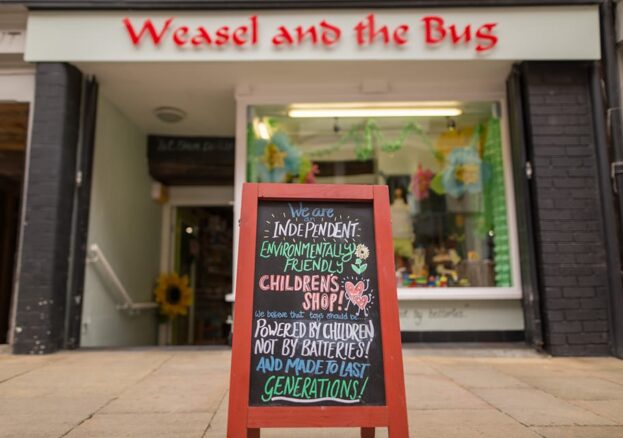 "Powered by children, not by batteries" is the motto at Weasel and the Bug, a fun, friendly and ethical independent children's shop in the heart of Chester city centre.
Weasel and the Bug was founded by Katie Jones in 2016 after the birth of her daughter. Katie spotted a gap in the market for good quality toys that last, rather than mass-produced battery-powered gadgets and plastic toys which usually end up in the bin after not very long.
Descend the steps from Watergate Street into the shop and it's like walking into a cross between Santa's workshop and a little Hobbit House, a treasure trove of intriguing toys under big, solid wooden beams. The best way of describing these products is traditional but modern, with a lot of wooden toys that are bright, bold and sturdy. Many look as if they could be virtually indestructible and are very popular with parents and carers for obvious reasons.
Most importantly though, children love the toys. One of the most popular products in lockdown were wooden tool boxes, that enable little ones to join in with a spot of DIY.
There's loads of cool stuff available in-store and online including Fabelab Dolls, Tonies, Plan Toys and Snails Lollips, child-friendly lip glosses.
Weasel and the Bug might be a small business but they have big values. Katie believes that we should all try and buy better toys that can be handed down time and time again. She only stocks products that are sustainably sourced and is always trying to reduce the carbon footprint as much as possible, as well as making sure products are made ethically.
The prices are very good for the quality and the staff are always available to give you real advice about the toys and what ages they might be best for. Perfect for gift-buying!
Weasel and the Bug is a safe place for children to embark on new adventures and go home with a cherished toy that's built to last. And if your kids are happy, you can be happy too.