San Carlo Leeds
Polly Checkland Harding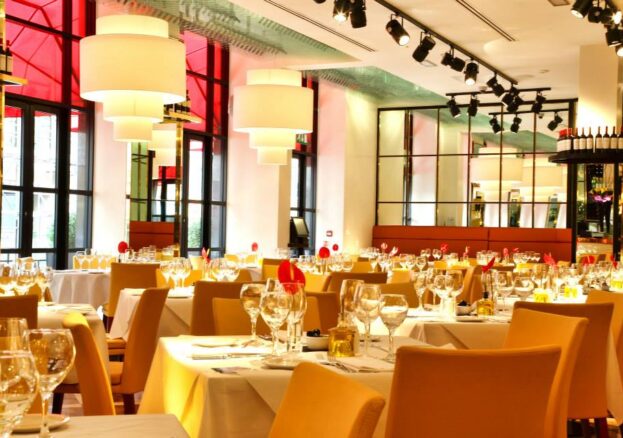 This Italian restaurant prides itself on authentic food. When in Leeds… do as the Italians do.
When it comes to food, it feels as though the Italians – and Douglas Adams* – have got it right. Printed at the bottom of the menu at San Carlo Leeds is the following quote, from La Rochefoucauld: "Eating is a need. Knowing how to eat is an art." This Italian restaurant is clear about the "how" part, focusing on fresh, authentic Italian ingredients, some of which are specially imported. But San Carlo also answers another question: if you're in Leeds city centre, where do you eat?
San Carlo is convenient for those planning a visit to immersive performance The Wood Beneath the World at Leeds Town Hall; the restaurant's wide glass windows spill light onto the pavement only a few streets away. There's a curious something about the San Carlo Group restaurants: visit any branch across the country and it'll immediately feel like part of the family, though you can't quite say why. They don't do identikit decoration, but there's something decidedly retro-European about each one. Here, there are apricot coloured pleather chairs, a marble floor and high ceilings festooned with red fairy lights. I'm quietly pleased to see celebrity photos dotting the walls; there's an artless pride to them that makes me smile.
If you're in Leeds city centre, where do you eat?
We're given a beautiful little bowl of olives to snack on while we navigate the sizeable à la carte menu. And the two-page specials menu. And the lengthy wine list. Once we've chosen, the food comes quickly: one hefty bowl of spaghetti with homemade red pesto, almonds, garlic and basil and one plate of turbot, with vegetables, black truffle and a lemony sauce. There are little flavour bursts of heat-sweetened tomato in the pasta, though I could have done with a slightly higher sauce-to-spaghetti ratio. The fish is perfectly cooked, melting and just a little char-grilled. The chef has slivered the carrots and courgettes into strips, which seems a little fiddly, but the black truffle is in impressively generous discs.
It's this kind of lavishness that makes San Carlo Leeds feel like a treat. Already heavy with food, we can't resist desert. The pistachio slice is knock-out; it's served with a strawberry sauce that, though it appears sickly sweet, actually works. The hazelnut and chocolate tart is also very moreish, though an ambitious choice for full stomachs. The wait staff, who have been attentive throughout, relax happily when they see we're sated. I think perhaps they're pleased to have passed on the art of eating.
* "The History of every major Galactic Civilization tends to pass through three distinct and recognizable phases, those of Survival, Inquiry and Sophistication, otherwise known as the How, Why, and Where phases. For instance, the first phase is characterized by the question 'How can we eat?' the second by the question 'Why do we eat?' and the third by the question 'Where shall we have lunch?'" – From The Hitchhiker's Guide to the Galaxy by Douglas Adams.