Dakota Leeds
Creative Tourist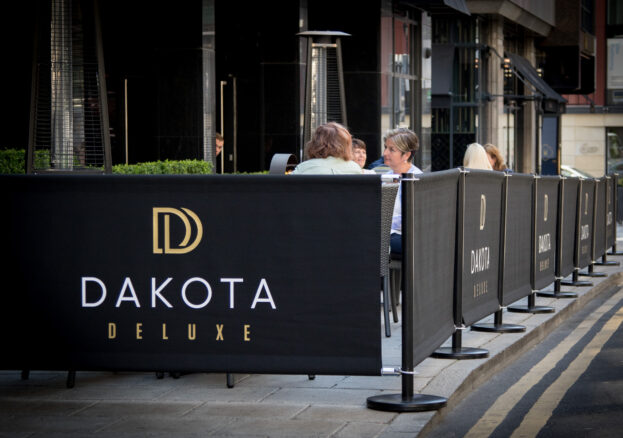 Salon Prive, aptly named after the French for "private lounge", is a must-visit part of Dakota Leeds. Situated on the first floor, stepping into the iconic black decor of the hotel sets the tone for a meal with class. As the lift dings open to the entrance, you're greeted by similarly dusky tones of the reception.
Take a seat either in their main seating area, featuring a well-stocked bar and piano nestle, or enjoy a moment on their terrace overseeing Greek Street. At either end of the terrace, there are more private spaces adorned with greenery, or you can pick a spot on the central area's leather seating. Whichever you choose, you can make the most of the summer sun here and bask in the rays while sipping a cocktail or two.
An idyllic spot, their new brunch menu sports the usual suspects of brunch eggs done Benedict, Florentine or Royale style. For those with a sweet tooth, there are also waffles done to order, which can be topped with bacon and syrup, Nutella and caramelised banana or red berry compote and yoghurt. We opted instead for something a bit rarer to see on a brunch menu.
Further down their list of choices, you will find the chorizo and wild mushrooms over fried duck egg to satisfy your brunch cravings. Alongside this, we had a bowl of fresh fruit with yoghurt and granola for some healthy goodness. Go a step further yourself and try their unique Yorkshire-German hybrid dish, a Lishman's of Ilkley Bratwurst.
Their cocktail menu is nothing to sneeze at either, and includes all of your brunch staples. Whether your preference lies with the classic Bloody Mary, a tall mimosa or an espresso martini to give you that brunch boost, Salon Prive delivers the lot. Non-alcoholic options are also available, be it in the form of mocktails, juices or smoothies.
And in the future, you can look forward to live music to give your meal that extra special touch. Finally, for the first 100 lucky guests to book, Salon Prive is throwing in a glass of fizz to celebrate with you. Cheers!