Lancaster Castle
Polly Checkland Harding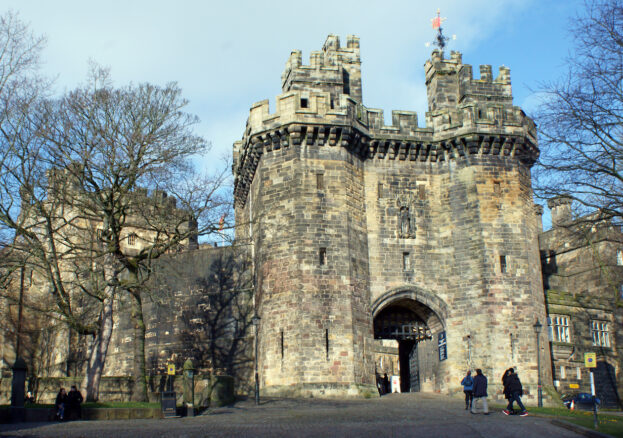 Occupying a hilltop position at the centre of Lancaster, the Grade I listed Lancaster Castle dates back almost 1,000 years. This was the strategic site of three successive Roman forts – once a bastion against the ancient Picts and Scots tribes. Recognised by English Heritage for its full documentary record and the extremely rare survival of so much of the medieval fabric of the castle's buildings, Lancaster Castle also offers a fascinating insight into the history of the judiciary and penal reform in England.
In fact, the site was a fully functioning HM Prison until 2011, and continues to operate as a Crown Court today – reputedly the longest continually sitting in the country. Still displayed at the dock, although thankfully out of use since 1811, is the branding iron once used to burn the letter 'M' for 'malefactor' onto convicted criminals' hands. Lancaster Castle was also formerly home to an unusual set of treadwheels, powered by the prisoners themselves for ten hours at a stretch and used to drive calico looms as well as drawing water from the well. Prisoners were only allowed breaks every 20 minutes and were allocated to partitioned spaces in order to interrupt communication between them.
Famous visitors to the castle over its history included Roberth Bruce, John of Gaunt and Napoleon – today, visitors can arrive without pomp and pageantry to explore the castle grounds for free, taking in the 20m high towers at the gatehouse and the nearly 3m thick walls of the keep and Hadrian's Tower, which was built in 1210, from the outside. Guided tours are the only way of accessing the interiors of the buildings, to see highlights such as the 650 shields on display in the Shire Hall, which bear the arms of every English monarch since Richard the Lionheart. There's also a café run by Atkinsons Coffee Roasters, housed in what was once the prison kitchen – a part of the castle that wasn't previously open to the public in living memory.
The courtyards of Lancaster Castle are open to the visiting public. Please note that access inside the buildings is only available as part of a guided tour. However, due to ongoing works to the Shire Hall complex, tours are not expected to resume until Spring 2021.