Penshaw Monument
Alexander Iles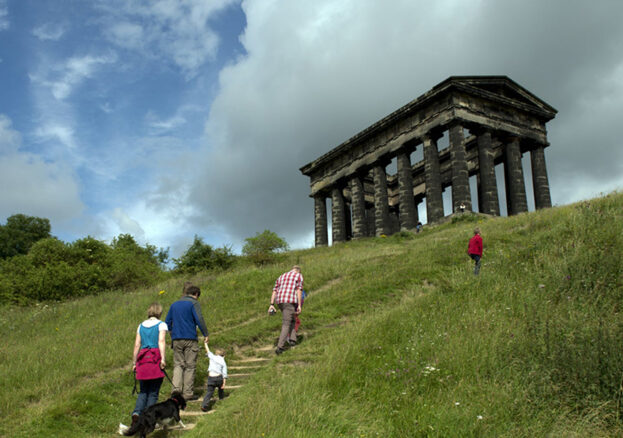 Penshaw Monument stands above the city of Sunderland on Penshaw Hill, owned by the National Trust and with the serious official name 'Earl of Durham's Monument'. Designed to look like a classical temple of ancient Greece or Rome, this monument has become a much-loved sight for many in the North East of England – equal to the Angel of the North in Gateshead but with a far longer history.
The Penshaw Monument was built from 1844 to 1845 and has a lot of myths around it. One claims that the local lord reduced his taxes on the local people, so they decided to build it to honour him. Then seeing that they had enough money to build a monument, he raised the taxes once more. This, though a good yarn, is not true. It was built to remember John Lambton, the first Earl of Durham who governed British North America and was a campaigner with Earl Grey for the Abolition of Slavery. Designed by the famous North East Church architects John and Benjamin Green – who also designed Newcastle's Theatre Royal – the monuments' foundation stone was laid by local Masonic groups in an event that attracted thousands to watch. While it has no purpose, it adds a little bit of wonder to the world around it. The monument is opened for private tours lead by the National Trust as, unfortunately, in 1926, a young man aged just fifteen fell to his death from the monument leading to its public closure.
Today, it is a wonderful monument that can be seen for miles around and, at night, the monument is illuminated with bright colours that make it even more enjoyable to survey. One of the best ways to enjoy it is by taking a walk in the Herrington Country Park. This park is a wonderful example of reclaiming land from old industrial uses, as it was once of the North Easts worst waste heaps from Herrington Colliery which closed in 1985. The whole site was refurbished adding an outdoor amphitheatre and a lake, creating a beautiful green space for the people of Sunderland, which sits just below the monument. The park has become such a successful green space it is now a home to over a hundred species of birds and other native wildlife.