Pendle Hill
Alex Zawadzki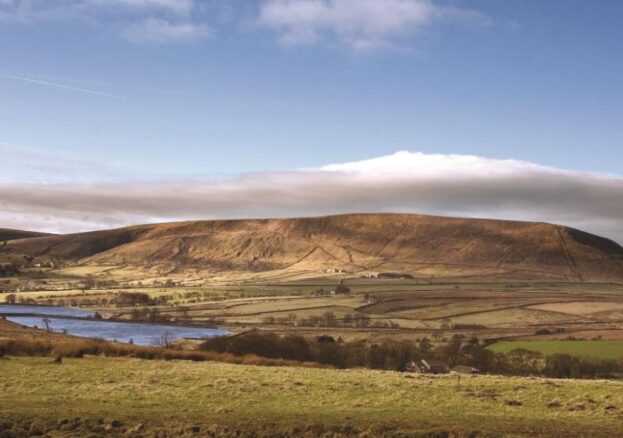 Pendle Hill is an Area of Outstanding Natural Beauty situated in the Forest of Bowland. This hillside was once home to the Pendle Witches executed in 1612, and an ancient hunting ground inhabited by wild boar and wolves. A walk across this haunted hill alone at night is rumoured to be for those of sturdy nerves.
Standing at 557m above sea level, you'll hit the summit after a 380metre climb from Barley, the most popular starting point. This is a great family friendly starting point with a play area, toilets and an honesty box for parking. It also permits you to mix up your route with a choice of a longer circular, including the summit and Ogden Reservoirs, with an option to take a shortcut after your climb; or even just take in the view looking up the hill by choosing the lower reservoir route. The paths are easily followed but there are plenty of comprehensive guides to the routes with picture guides and maps online created by avid hikers. Depending on your route and your speed, you could spend between 1.5 and 5 hours on the trails. The trails are mostly gentle but the main route includes a section of short, sharp, steep ascent on a stone-cut path that could challenge some walkers. There is a slow and steady slope option should you prefer.
A deviation into Aitken Wood will take you to the Pendle Sculpture trail to learn more about the tales that come from this hillside. Download a map to find ten ceramic plaques representing the persecuted women hung in the biggest witchcraft trial this country has seen, and discover wood carvings of The Witchfinder General and various mythical beings.
If you fancy a less obvious jaunt, there are routes to take from all sides of the hill with links to detailed routes you can follow here. The walk from Downham, the location of the film 'Whistle down the Wind' is reportedly very beautiful.
As always when you set out into the hills, make sure you are prepared with a planned route, food, water, a fully charged phone and adequate clothing, as the notorious Northern weather loves to take people by surprise.