The Grand Theatre, Lancaster
Polly Checkland Harding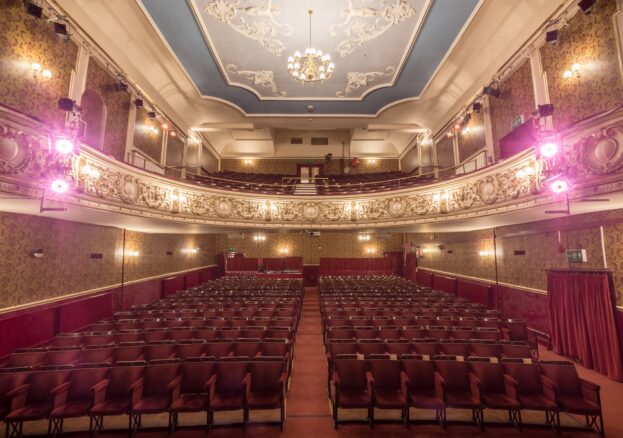 Opened in 1782 during the reign of King George III, the Lancaster Grand Theatre has been in near continuous operation for over 230 years. One of the oldest working theatres in England, the original design for the building was remodelled in 1897, gutted by fire internally in 1908 and reopened in its current iteration just eight months later – with the Edwardian features that remain in evidence today. The stage in this Grade II listed building has played host to preeminent actors including Ira Aldridge, the first black actor to play Othello having emigrated from New York in 1824, and the theatre boasts notable patrons including actor Jane Horrocks of Absolutely Fabulous fame.
Tours of the theatre include a chance to follow in Aldridge's footsteps and stand on the stage in the auditorium, which has a circular balcony and rich plasterwork, as well as venturing behind scenes backstage. These are parts of the theatre not usually seen by the audience, and a chance to feel what it's like to wait anxiously in the wings before venturing out on the boards. Guests on tours of Lancaster Grand Theatre have even spotted the ghost that is rumoured to haunt the theatre: the 'Grey Lady' is said to be the spirit of Sarah Siddons, an actor who became famous in her time after making her name playing Lady Macbeth in London's Covent Garden.
As well as hosting plays, touring productions, comedy, dance, music and musicals, the theatre is looking to its future, with a fundraising campaign underway to raise money for the construction of an accessible new foyer and studio space. Planned since 2008 and designed to better serve the theatre's modern audiences, the extension is set to include a new reception, bar and additional storage. Made visually distinct from the original building through the use of glass, the modern foyer has been designed to be in keeping with the listed structure and the conservation area it stands in, with a new entrance opening out onto a public square to the side of the theatre.