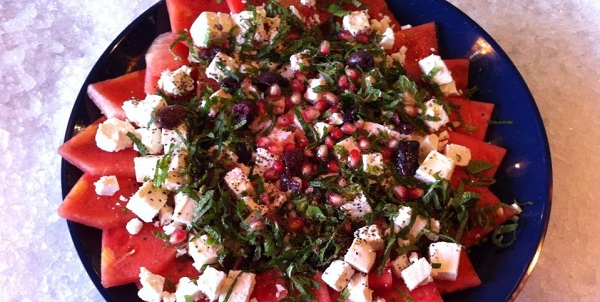 THIS VENUE IS NOW CLOSED
Amid the kebab shops and student joints, the Oxford Road takeaway offers a flavoursome mishmash of Indian, Morroccan and Lebanese street food.
You hear lots about street food these days – a froth of foodie fashion has stretched the over-used phrase to the furthest bounds of its humble origins. Unlike a lot of the foodstuffs currently bearing the name street food in the bandwagon-jumping restaurant of your choice, proper street food is quick, cheap, compact and both purchased and consumed on the street. But what you don't hear a lot about is healthy street food. I'm going to tell you about some.
Kukoos is the halal takeaway offspring of much-loved Indian restaurant Zouk, selling an enticing mishmash of Indian, Moroccan and Lebanese street food. Everything about this place has been well thought out, from the startling constellation of hi-spec light fittings to the freshly pressed juices to the handsome orange honeycomb design on the paper encasing your wrap. An Oxford Road studentland takeaway has never looked quite like this before. Kukoos has funky striped walls and brightly coloured metal stools ranged at a tall counter along one wall, and with a world music soundtrack pouring out of the permanently open front doors, it sounds good too. There's a lot going on inside but don't be afraid when you're asked to choose between approximately fifty sauces for your wrap.
Don't be afraid when you're asked to choose between fifty sauces for your wrap
A flavour-packed and healthy lunchtime or anytime meal option in the city centre? Can it be? Has someone heard my prayers? It seems they have. For a fiver you get the wrap of your choice plus a bowl full of three salads from the meze bar (a changing selection that would do Yottam Ottolenghi proud). Recent choices include fennel, orange and red onion, quinoa and baba ghanoush. I opted for watermelon, feta and pomegranate; a green, herby tabouleh; and giant couscous with beefsteak tomatoes in a pleasantly sharp sauce. It's a minor complaint, but cramming all three salads into a deep bowl didn't do them any favours, especially when I was eating in. But that's the only complaint. The salads were a delight.
But back to that wrap. Kukoos' chicken tikka wrap is by far its biggest seller, and after tasting it I understand why. Cumin-flecked chunks of tender grilled chicken enfolded in the embrace of a wrap that was gratifyingly thinner and drier than the thick flour tortilla used for Mexican food. I asked for the works and they piled it all in: red cabbage coleslaw, cucumbers, salad leaves, vegetables and a sweet and tangy mango mint sauce: a glorious combination of hot and cool textures that blew the standard kebab shop offering out of the water.
And there's plenty more on the menu. The takeaway sell made-to-order dosas (South Indian pancakes, often filled with curry and chutneys), biryani, soups and Asian sweets, as well as an enticing selection of juices, lassi and yoghurt drinks. Some do complain that it's pricey, but I think it's pretty reasonable. My £5 meal deal was plenty of food, and I'd happily pay slightly more for such high quality. Crucially, on weekdays they open at 10am and don't close until 10pm, making catching a meal at awkward times easy for those of us with complicated lives. It's not the most comfortable place in Manchester to eat a meal, but you have to admit: it's more comfortable than eating it in the street. Cuckoo for Kukoos? You bet I am.