Joseph Benjamin
Vicky Andrews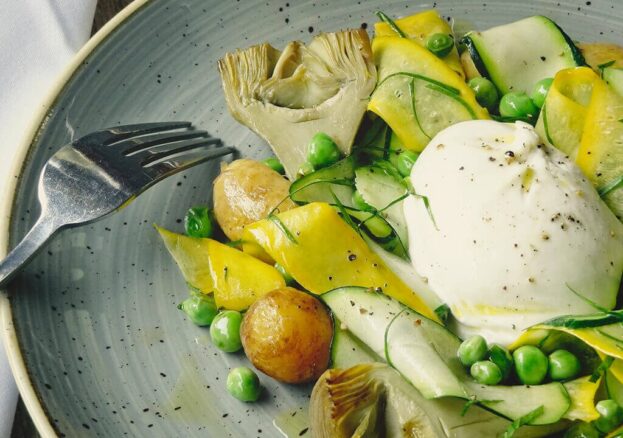 Joseph Benjamin is a little place with a big personality, a bustling and modern restaurant below the walls of Northgate Street and just a holler away from Storyhouse, Chester's cultural centre.
The business was started in 2006 by brothers Ben and Joe, inspired by their travels and love for food to launch a restaurant that would provide excellent quality cooking, great wine and consistent service, all at a decent price. The idea obviously worked and Joseph Benjamin has been awarded a Bib Gourmand from the Michelin Guide for the last eight years running.
Ben and Joe's passion comes through in a contemporary menu that hits the spot with a combination of classic comfort food and authentic Mediterranean cheer. Specialities include a seafood paella sharer with bomba rice, mussels, squid and prawns, but if fish doesn't float your boat then how about Ibérico pork paella with ribs, pancetta, braised pork belly, confit garlic and chickpeas? There's also wild mushrooms and cauliflower paella, as well as plenty of other veggie options.
Unfussy plates are packed with flavour and high quality ingredients; presentation is simple but smart. Chargrilled confit Goosnargh duck leg and braised flageolet beans comes with a technically perfect aioli, while the burnt Basque cheesecake with poached pear is a dark and rich, sweet sensation. Whether they're serving up haute cuisine or humble home cooking, all of the team are committed to making sure you have an enjoyable experience. Front of house staff are cheerful and well-informed, happy to chat about food pairings and wine choices.
Stylish but easy-going, Joseph Benjamin is the kind of place you could drop in for an afternoon coffee and end up staying until last orders, that best friend who is always there when you need him. Light lunch, full dinner, Sunday roast, or just a drink and some cake,  'JBs' has got you covered.