Greater Manchester Police Museum
Natalie Bradbury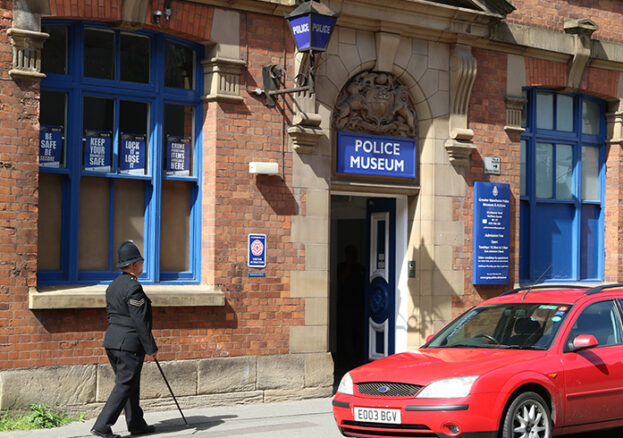 Visit the Greater Manchester Police Museum for makeshift weapons, wooden pillows and a chance to stand in the dock, without being charged.
Tucked away in Manchester's Northern Quarter is a place that's as far removed from the bustle and liveliness, fun and frivolity of the area's trendy bars and cafes as can be imagined. Greater Manchester Police Museum delves into the darker side of the city's history, bringing the former Newton Street police headquarters to life in all its severity; its heavy riot gates once kept out braying mobs. Today, a small museum and archive is housed in the building, which closed in the 1970s yet still retains the décor and aura of a Victorian-era prison.
The museum contains a number of collections relating to local policing through the ages – from helmets, uniforms and truncheons, to police transport. Among the most interesting are items relating to the notorious, 25-day Strangeways riot of 1990, which took place just a mile down the road. They include a rather battered-looking door that was pulled from its hinges by prisoners and a gruesome cabinet of improvised weapons used in the riot, now mounted safely (and high up) on the wall. A jolly attendant in an old-fashioned warden's uniform explains cheerfully that one was adapted from a toilet chain, and that another involved a soap inside a sock.
Crimes ranged from street robbery to "stealing a duck from a shop"
Wannabe crime-solvers will enjoy testing their skills of deduction in a section dedicated to the ingenuity of those on both sides of the bars. Here, the stories of some of the region's more gruesome murders are told alongside displays of the actual murder weapons used, as well as police kit like the "murder bag" that was taken to the scene of the crime. There's also information about techniques such as facial reconstruction, which were used to identify victims. Another highlight is a mocked up forger's workshop, complete with inscribed slabs, brushes and piles of notes. It's inspired by the "King of forgers" Herbert Winstanley, who flooded dog tracks with forged currency during the Second World War.
A magistrate's court upstairs, transferred from a former courtroom at Denton, Tameside, puts the visitor in the dock with its stained glass, polished wood and law books. However, it's the walk-through cells and the 1879 charge room with its imposing wooden desk – accessed through a cobbled courtyard at the back of the building that once housed its own morgue – that are the most compelling. The cells are painted in the institutional brown and cream colour scheme, with a cold concrete floors, hard beds, itchy blankets (although this luxury was not extended to drunks, who received nothing) and inbuilt wooden pillows that give a new meaning to the word lumpy.
Each cell held up to twelve people, who were put to work on prison labour and kept in order with a birch rod. Crimes ranged from street robbery to "stealing a duck from a shop". One cell contains a rogue's gallery of mug shots staring back from the wall. While some look like the tough faces of hardened criminals, others appear poor, simple or just desperate – and a few were clearly children. These cells, and the stories contained within them, are enough to strike a chill even in the most law-abiding citizen. We left on our best behaviour.