Dishoom Manchester
Dominic Fung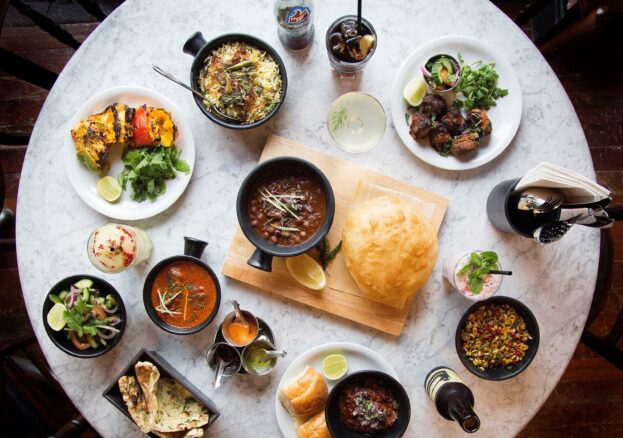 In our modern world we take so much for granted, amazing food included. In particular, a favourite cuisine for just about everyone has more to it than simply being the origin of chicken tikka masala and naan bread. To acknowledge the trials and tribulations that people went through, in early August Dishoom Manchester hosted an event called 75 Years. The aim was to bring awareness of the events that led to us being able to indulge in a curry on a weekend night today.
Kicking things off, we had inspirational words from the famous "Tryst with Destiny" speech by the first Prime Minister of India. Following this, we were treated to words from the heart of Shamil Thakrar, one of Dishoom's co-founders himself. This set the scene for some testimonials and stories from a local celebrity, Binita Kane. Not only was she featured on the BBC show, My Family, Partition and Me, but also it is only with her efforts that it has been possible for others both within and outside the community to celebrate South Asian Heritage Month.
At Dishoom, we're all treated as welcome guests in a typical South Asian household
Hosted by Kavita Puri, her touching stories of family, identity and struggles were an insight into lives that aren't put in the spotlight when it comes to educating the general public. To finish, a performance of traditional music with a modern twist. Composer Soumik Datta strummed the sarod, while on the historic tabla and dholak drums was Aref Durvesh, all to the accompaniment of Rosabella Gregory's keyboard. The result? A unique melody with a beat unlike any other and a rhythm with passion and soul behind it.
As we're at Dishoom, it goes without saying that all were treated as guests in any South Asian household. That is to say, treated to a wide assortment of dishes while surrounded by positive energy. Among the feast were plenty of Dishoom classics, including house chaat, signature black daal and a variety of side dishes. With platter upon platter coming out of the kitchen, you'd be hard pressed to find anywhere quite as representative of South Asia as this wonderful restaurant.
This event was based on a unique interpretation of Kavita Puri's book 'Partition Voices: Untold British Stories', which can be purchased through the Dishoom website.