Bretta & Co
Christina McDermott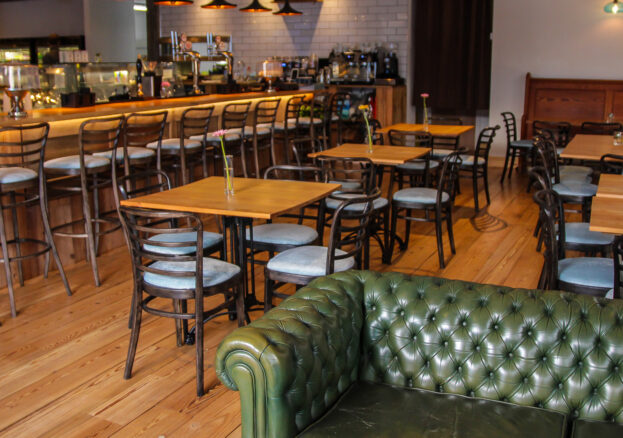 We're not sure what they're putting in the water around Merseyside way at the moment, but it seems as though every time one shop closes, a new restaurant opens in its place. Perhaps it's because people feel there's big money to be made in filling Scouser's bellies, or perhaps its because we've all been watching way too many episodes of MasterChef.  Either way, there's never been so much choice when it comes to deciding where you're going to have your tea.
So, it was only a matter of time until some new place with pretensions towards fine dining appeared off Bold Street (arguably the home of the Scouse restaurant boom). Bretta & Co claims to be 'Liverpool's first and only fine dining bistro' despite the similar and award-winning Delifonseca down the road. Comprising of a deli and a small restaurant, Bretta & Co does look minimalist, modern and tasteful – the kind of place that puts you in mind of lazy brunches and ladies who lunch. It's a shame, then, that its food doesn't quite hit the same mark.
It's always concerning when a restaurant's menu is the thickness of a small novel, even more so when the dishes featured try to straddle all four corners of the world. Bretta & Co's menu features everything from afternoon tea to tuna tataki to curry, indicative of a restaurant trying a little too hard to please everyone. My partner and I decide to start with the shared Meat board (£7.50 per person); it's pretty hard to screw up a platter of cured meats and bread. This is decent enough, even if both the promised wild boar and quail's egg Scotch Egg and the pork pie failed to make an appearance, replaced instead by a sliver of (admittedly decent) sausage roll.
Where it really goes downhill however, is with the mains. While my partner's beer battered fish and chips (£12) features a satisfying, crisp batter, it's woefully under seasoned, requiring a good layer of tartare sauce to bring it to life. My pan roasted lamb rump (£15) comes accompanied with a hockey puck of potato fondant, two tiny leaves of kale, spring carrots and a measly dribble of red wine sauce. It's the kind of dish which makes you think about getting a kebab on the way home.
By the time we get to our desserts – a lemon drizzle cake covered in a tooth-achingly sweet icing (£4.50), and an overpriced pistachio and vanilla crème brûlée (£7), which comes topped with a soggy layer of half melted sugar – we're starting to feel a little short changed. The only saving grace is that the whole thing is washed down with two large glasses of an immensely drinkable Portuguese red wine, Douro Moinho (£6.40 per glass), which provides the best value of anything we had that night.
And this is Bretta & Co's problem. It can sell lovely wine, and woo us with lovely staff, but it's very overpriced for what's on offer. £76 for three courses for two people (with one glass of wine each) may not sound like a lot, but we left feeling that by taking a quick wander down Bold Street, we could get much better food for much less money.