Band on the Wall
Kate Feld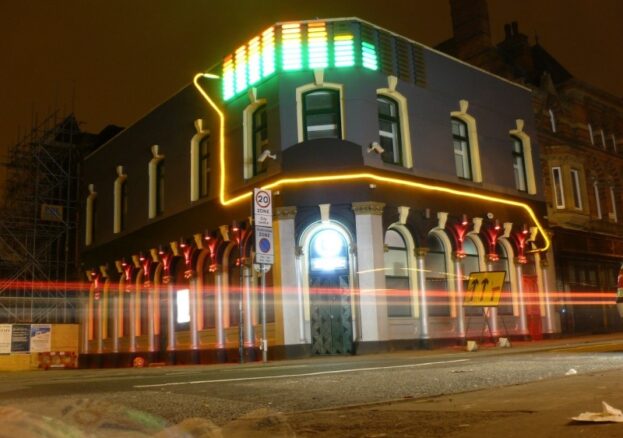 Band on the Wall, with its 200 year history, has been transformed. The capacity of the main room has been extended to 500, there's a whole floor dedicated to the venue's innovative World of Music learning programme, plus an impressive new bar, which doubles up as a smaller, 80 capacity venue.
Dating back to 1803, Band on the Wall has played a unique role in Manchester's musical heritage. The name 'Band on the Wall' comes from when the venue was known as The George and the Dragon pub, where performers would play on a stage situated halfway up the wall. Flash forward to the late '70s and it became the epicentre of Manchester's punk scene, hosting some of the earliest performances by The Fall, Buzzcocks and Joy Division. Since then, everyone from Björk to the Sun Ra Arkestra has graced its iconic stage. All before the venue shut shop in 2020 to work on this ambitious capital project.
The (fairly) newly opened, fully accessible venue has expanded into the three-storey Cocozza Wood building, which it adjoins at the back. This Victorian building has long been derelict, but now forms part of the larger ground floor venue space and the upper floor learning suite where Band on the Wall nurtures a hotbed of Manchester talent via World of Music – a community-focussed programme of heritage, music, learning and research projects which celebrate Manchester's migrant communities and their musical legacies. As for the new bar, it's a grand and ambient space, which serves hot food, and stays open during the day to serve the local community. It also doubles up as a smaller venue on some evenings, meaning that more live music than ever before is coming to Swan Street, and that can only be a good thing.