Angel of the North
Polly Checkland Harding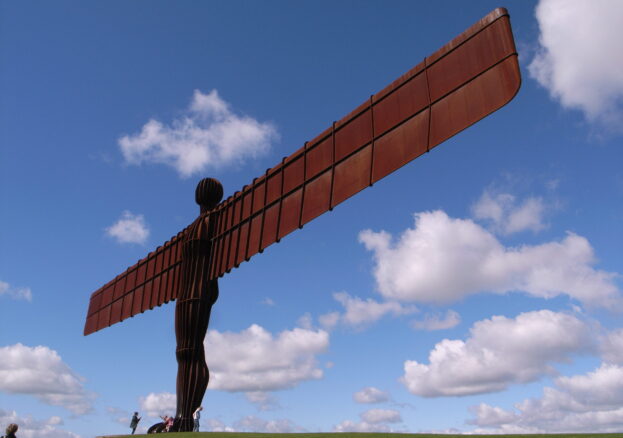 From its controversial beginnings, the Angel of the North has become one of the most iconic outdoor sculptures in the North of England – and one of the most viewed in the world. Its location next to the A1 Gateshead means that more than one person drives past the monumental hilltop angel every second, meaning that it's seen by 33 million people a year. At 20m tall, or the equivalent of four double decker buses, it's hard to miss; its 54m wingspan is bigger than a Boeing 757 airplane. Though initially a controversial proposal, the Angel of the North was voted one of the 'Wonders of Britain', alongside Stonehenge and Big Ben in 2002.
Completed in February 1998, the sculpture was designed by internationally renowned artist Antony Gormley OBE using a cast of his own body as a model, and made in Hartlepool. The hilltop it sits on was created after the closure of Lower Tyne Colliery, made using the destroyed remains of the pithead baths. Gormley described the site as having 'the feeling of a megalithic mound', and found resonance between the area's mining history and the 20m deep excavation that was dug for the sculpture's concrete piles. These anchor the angel to the solid rock beneath, enabling it to withstand wind speeds of over 100mph, and are deep intrusions below ground, where miners worked for 200 years.
Winner of the Turner Prize, Gormley has exhibited at the V&A, British Museum, Tate Gallery and more. He felt it important that we keep imagining angels, and designed the Angel of the North's wings to sit forward at an angle of 3.5 degrees, lending it 'a sense of embrace'. This is just one of the many reasons why so many people make the pilgrimage to see it; the sculpture has been the site of countless photography shoots and even marriage proposals over the years. For Gormley, this popularity helps to fulfill the sculpture's purpose: 'it is given a great deal through the presence of those who visit it'.