Albert's Schloss Liverpool
Stephanie Heneghan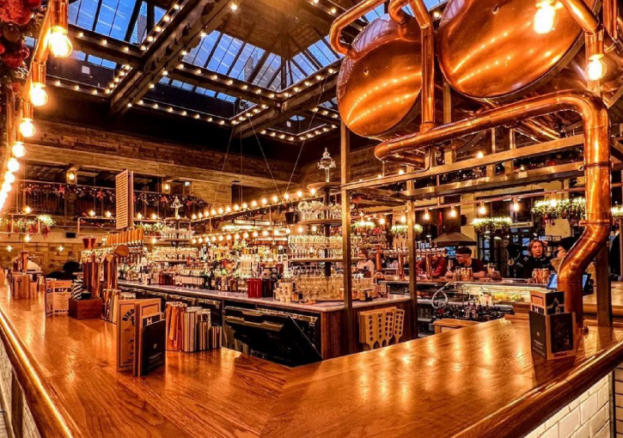 At the bottom of Bold Street, there's an urban legend that a time slip exists as you walk up the ramp out of Central Station. According to lore, one wrong move and you'll end up in 1950's Liverpool, surrounded by fashions past and stores long closed.
Obviously, that's nonsense, apart from the stores that are long closed. As the top of Bold Street flourished with independent venues and exciting new additions, the lower part languished with boarded-up shop windows, feeling untethered from the food hub that the street had become known for.
Until the arrival of a behemoth called Albert's Schloss. This isn't Liverpool's first introduction to the Albert's concept – Albert's Schenke has had a home on Hanover Street for the past few years – but it is certainly the most impressive. The location has been completely transformed into a "Cook Haus and Bier Palace", managing to land on the right side of Bavarian without tipping over into tacky.
Lands on the right side of Bavarian
Let's get to the good stuff. The food and drink. As you'd expect it's a sausagefest, with bratwurst and frankfurters sprinkled liberally throughout the menu. When in Rome, order a currywurst; especially when it's generously portioned and served up with fries and curry ketchup.
Hang on, let's backtrack to the starters! Specifically, the honey roast pork belly which was a total delight. Sticky melty goodness with satisfying crackling, I would eat this again and again. Ditto the Kreuzberg chicken wings, flavour balanced on a spicy tightrope and disappointing when you find the bowl empty. TLDR – the starters are glorious.
The beer selection is expansive and inclusive, with options for all taste buds. A three-tier bier flight offers delicious variety, while Budvar Dark is chocolatey deep. The wine list offers a fruity full-bodied malbec that's great value, and not forgetting a shot of schnapps to get the night going.
That's where Albert's Schloss comes into its own, it's the perfect venue for a good night out. Enough space to eat, drink and dance, a stage with live music and a DJ, staff who are friendly and engaging, and benches that you're encouraged to hop on when the vibe gets lively. There's even a disco toilet cubicle which is bound to have queues forming outside as more boring alternatives are shunned.
Go for a family meal, go for a girlie night out, or just go for a mooch around the incredible interior (shout out to the beautifully restored atrium roof). Just mind your step as you come out of the station.