WITCH at Band on the Wall
Johnny James, Managing Editor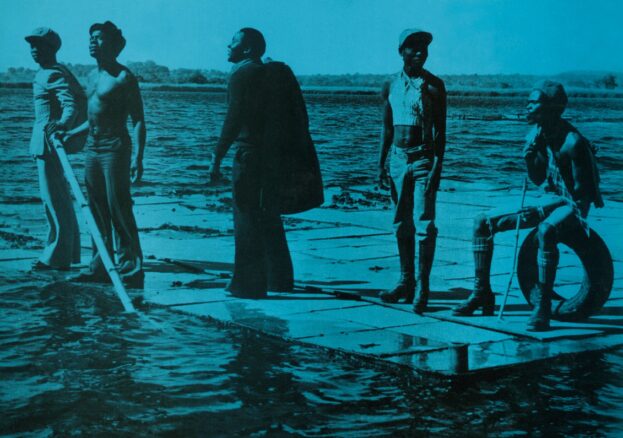 Known as the "Zambian Beatles" during their '70s and '80s heyday, WITCH recently released their first album in nearly 40 years. Now, they're bringing their genre-spanning, infectiously joyous music to Europe, calling in at Band on the Wall on 3 December.
1970s Zambia was dominated by the explosive Zamrock movement – a genre that mixed riotous rock and roll with traditional African rhythms and bush village songs. Right in the middle of it all was WITCH (an acronym for We Intend To Cause Havoc), infamous for their seven-hour live shows, incendiary on-stage antics, and world-is-ours mentality.
The band the press dubbed "Zambia's Beatles" won the hearts of music fans across Africa, but economic collapse, government authoritarianism and the AIDS epidemic left WITCH, like most Zamrock bands, in turmoil, prompting singer Emanuel "Jagari" Chanda to step away and pursue a career as a teacher.
A new incarnation of WITCH, in which Patrick Chisembele and Christine Jackson were recruited as vocalists, saw the band undergo a disco-inspired metamorphosis in the '80s under the leadership of keyboard savant Patrick Mwondela. But by the mid-decade, that too was in decline, and Zamrock – still an obscurity in the West – was already but a figment of the past.
And the past was where WITCH were resigned to exist, until Now-Again Records reissued a career-spanning collection of their music in 2011 – the first time their work was widely available outside of Africa. Crate-diggers and connoisseurs went wild, inspiring filmmaker and fan Gio Arlotta (today the band's manager) to journey to the country to find the original band's last surviving member. Once Zambia's biggest rock star, Jagari was now a gemstone miner in his late 60s.
Gio's subsequent Searching for Sugar Man-style film, called WITCH: We Intend To Cause Havoc, documents the reincarnation of the band with a new line-up (featuring Jagari at the helm alongside Patrick Mwondela of WITCH's disco days) ahead of their first-ever live shows in Europe and America. With great acclaim received from international festivals and cinema audiences, and with the new band fulfilling Jagari's long-harboured dream of performing to fans all over the world, this Zamrock legend finally confirmed its place in rock's history books.
Empowered and inspired by the rapture at shows in London, Los Angeles and Lusaka — and festivals like SXSW, Desert Daze and Green Man — WITCH veterans Jagari and Patrick, both now in their musical prime in their '70s, returned to the studio in 2021 with an international consortium of players from the new live band. The new album, Zango, was put to tape in Lusaka's DB Studios — the same place the original band's beloved 1975 album Lazy Bones was made some 46 years prior.
The result must have surprised even Jagari and co. The mere act they recorded it was a triumph against all odds, but Zango was lauded by audiences and critics alike as the finest album the Zamrock legends had produced. Within their inherently malleable genre, they slip between Afrobeat, acid funk and psych pop while also folding in hip hop on tracks like 'Avalanche of Love', which features the Zambian rapper Sampa the Great trading verses with Jagari.
It's one of those albums that's all about the energy, and props to producer Jacco Gardner (also the band's bassist) for capturing the defiantly youthful Jagari and his new band so well. The whole thing brims with the same sense of triumphant possibility that the Zamrock scene was all about, while celebrating community, with Jaggery passing the mic to a number of other Zambian vocalists, including soulful contributions from Theresa Ng'ambi and Hanna Tembo.
"Like the story of the Phoenix", Jagari cries on 'Message from WITCH', the album's closing track and something of a manifesto, "the bird from the ashes – Zamrock has resurrected from decades of slumber." Indeed it has.