William Stott of Oldham: Great Painters are Rare Exhibition at Gallery Oldham
Sara Jaspan, Exhibitions Editor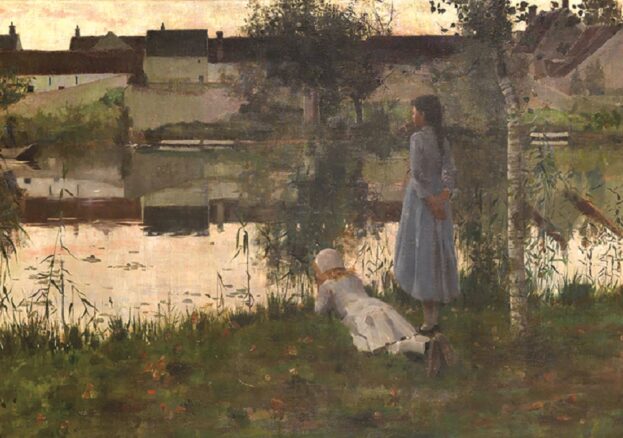 Following a nationwide tour, 'Le Passeur (The Ferryman)' (1881) by 'the world-famous' William Stott of Oldham, is about to return to the artist's hometown as part of an exhibition dedicated to his work and that of those he inspired.
The impressive six ft long painting of two girls on the bank of the river Grez in France at dusk, represents Stott's most ambitious impressionist work and a key moment in the breakthrough of naturalism in British art during of the 1880s. Painted at the international artists' colony of Grez-sur-Loing in northern-central France, the masterpiece is at once bursting with a rich array of artistic styles and influences (from the Scandinavian artists Carl Larsson and Karl Nordström to the rise of Japonism across the West), whilst also capturing a moment of perfect tranquillity.
Born in 1857 at Rhodes Bank to a family of cotton spinners, Stott first began to hone his craft at Oldham Art School before graduating in 1878 to the Manchester School of Art, where he worked alongside other important local artists including G. H. Wimpenny and F.W. Jackson. Less than a year later, however, he was off to Paris where he quickly developed a reputation for his outstanding ability as a painter, exhibiting at the Paris Salon (one of the most prestigious art venues in the world at the time) and receiving one the institution's most highly sought-after medals.
Exactly 120 years after his death (he died unexpectedly whilst travelling on a ferry from London to Belfast in February 1900), it seems only fitting that the work of the Oldham born and raised, internationally-renowned artist should return to Oldham to appear alongside side other significant local painters of the time.
William Stott Of Oldham: Great Painters Are Rare includes loans from Tate, Touchstones Rochdale, Manchester Art Gallery and Aberdeen Art Gallery, as well as key works from Gallery Oldham's own collection.