Vivian Suter at Tate Liverpool
Sara Jaspan, Exhibitions Editor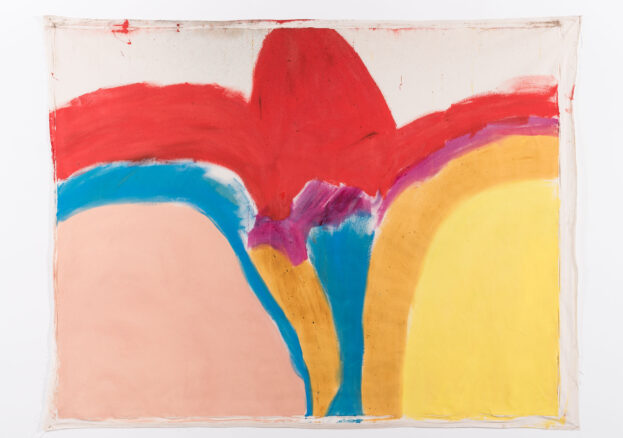 It was whilst travelling through North and Central America in 1982 that the Swiss-Argentinian artist Vivian Suter came across Panajachel, a village in the Guatemalan Highlands, where she decided to make her home with her mother, the acclaimed artist Elisabeth Wild. The two have lived and worked there ever since, in a two-bedroom house on a former coffee plantation; bathed in the year-round green shade of the gravilea and mango trees, surrounded by tropical birds and plants, and exposed to the elements of the rainforest. Her studios – wooden, open-air structures – look out over Lake Atitlán and the area's now-dormant volcanos. It is in response to this incredible landscape and her own internal world that her raw, vivid, brightly coloured and rapidly made abstracts on unstretched and untreated canvas emerge. In fact, they often embody the landscape on a physical level; the painted organic shapes and brushstrokes containing natural substances, botanical matter, micro-organisms, and fragments of leaves and twigs brought in by chance.
Suter moved to Panajachel partly to escape the clamour of artworld success that she was beginning to experience. Yet, following around three decades of relative solitude, she has started to exhibit more prolifically once again, her work presented internationally – on the High Line in New York, at Documenta 14, Art Institute of Chicago, Taipei Biennial 2018, Art Basel Cities in Buenos Aires, and the Power Plant in Toronto. Now it's travelling to Tate Liverpool for Suter's first UK solo show. The exhibition will feature 'Nisyros (Vivian's Bed)' (2016-17), her largest installation to date consisting of 53 of her large-scale, suspended pieces. Hanging airily together in space, they create an immersive environment filled with traces of the rainforest, the artist's life there, and the passage of time. They also embody the hardships of life in the region, Suter welcoming the damage caused by the two hurricanes – Stan and Agatha – that hit Guatemala in 2005 and 2010, into the work.
As we head into winter, the fiery-warmth, intensity and abundance of Suter's work offers a welcome ray of light to look forward to.