Viagra Boys at Albert Hall
Johnny James, Managing Editor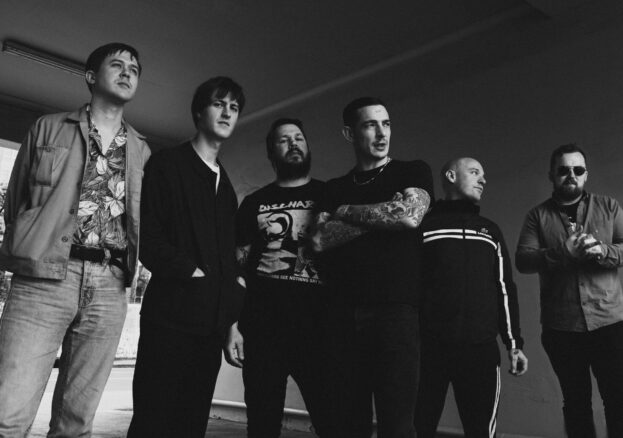 Stockholm-based post punk band Viagra Boys have spent the last five years exploring the grubby underbelly of society, championing the world's underdogs while taking aim at subjects like toxic masculinity and misogyny. They're not exactly unique in that respect; it's the way that they unpick these subjects that sets them apart. They do it from the inside out, presenting themselves as the assholes and burying sentimentality beneath layers of faux machismo and absurdity – a recipe for a whole lot of fun.
Viagra Boys formed in 2015 in Stockholm, Sweden. Tattoo artists Henrik Höckert and Sebastian Murphy (the latter born in San Francisco but living in Stockholm) met through a mutual acquaintance and went out for a night of drinking. The two ended up at a karaoke bar, and after hearing Murphy belt out a unique version of Mariah Carey's 'We Belong Together', Höckert decided they needed to form a band, later recruiting guitarist Benjamin Vallé, drummer Sol Tor Sjödén, Oskar Karls on sax and producer Martin Ehrencrona on keyboards.
Over the course of their early EPs, their sound grew into a fusion of Devo and Iggy Pop. Churning basslines, spluttering electronics and pounding drums provided the sleaziest of foundations for Sebastian Murphy's bellowing, slurry vocals and Oskar Karls' deranged-sounding saxophones, all working towards a sonic interpretation of amphetamine psychosis.
In 2018, they released their debut album Street Worms via Year0001 Records. Satirising society's most reprobate corners, this record saw Murphy transform into every troubled character he wrote about, from a husband caught seeking BDSM with strangers to a guy compulsively taking amphetamines in order to build an unspecified machine and thus win a Nobel Peace Prize.
Tunes like 'Sports' and 'Just Like You' from that record plucked them from the underground and saw them tour across the world, where their live shows grew increasingly unpredictable and pulverisingly intense. Murphy, covered head to toe in tattoos (including one on his forehead that simply reads "Los") and wearing his signature speed dealer sunglasses, flailed around the stage like a rabid dog, fully embodying the chaos and subversiveness of the music pummelling around him.
In January 2021 came album number two, Welfare Jazz. Dialling up the satire to hilarious effect, each song unravels a meticulous character study that speaks out against the behaviour that systematically puts people down, all the while painting an honest picture of the disturbing psychological effects of copious drug use. In the synth pop single 'Creatures', Murphy becomes a bottom-feeder in a sub-aquatic apocalypse, surviving on only scrap metal and stolen copper. In 'Ain't Nice', he plays the role of the shitty boyfriend, negging his partner while using their house as his personal storage unit, while the maniacally upbeat 'Girls and Boys' takes us on a typically surreal tour of outdated gender roles.
More musically limber than its predecessor, Welfare Jazz clothes its post-punk exoskeleton in everything from jazz to synth pop to country, all coloured in a cartoonish absurdity that wallows in the madness of modern times. The country aspect is the one they dial up the most, wedging into the album's darkness a slither of hope, albeit an all-out parodical one. They even choose a cover of John Prine's 'In Spite of Ourselves' for the closer – a duet that Murphy and Amy Taylor (Amyl and the Sniffers) turn into a punk hoedown, replete with grossly exaggerated Southern accents. Skirting a delicate line between tribute and trolling, it kind of sums up the album.
Brutalist, debauched and incredibly entertaining, Welfare Jazz is Viagra Boys' best work yet. We can't wait to catch them live at Albert Hall on 8th May 2022.