Art in The Refuge at the Palace Hotel: A mystery box and a wallpaper trail
Polly Checkland Harding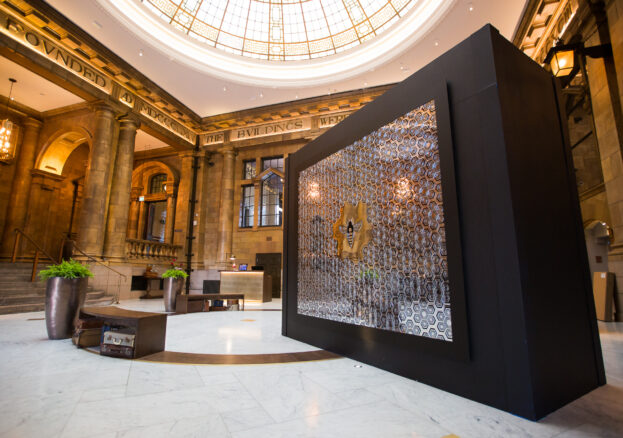 The Refuge by Volta – the brand spanking new restaurant and public bar that comes as part of a £20m revamp of The Palace Hotel – has chosen unusual ways to promote its opening. Not only has the team thrown a free summer street party, inviting the public to 'come as you are', they're using another medium, too: art. Local artist Mark Jermyn, otherwise known as Moderate Realism, has not only created work for the first exhibition along The Refuge's dedicated 'gallery wall', he's also designed a bespoke series of wallpapers to go up in locations around Manchester – with prizes on offer for those who find them.
"I love adding a splash of colour to the streets and allowing the public to view artwork as they carry on their daily business," says Jermyn. "If I can make someone smile or have different thoughts when they view my artwork I feel like I have achieved something." This inventiveness should perhaps not come as a surprise from the duo behind The Refuge; former Unabomber DJs turned restaurateurs Luke Cowdrey and Justin Crawford set up the award-winning Volta in Didsbury together. Now, they're taking on a far larger challenge with 10,000 square foot of space on the ground floor of The Palace Hotel on Oxford Road, otherwise known as The Refuge. The Refuge will have 139 covers, an open kitchen, winter garden, private dining room and 30-foot-long granite bar. The new 'gallery wall' runs along an entire wall in the grand new room.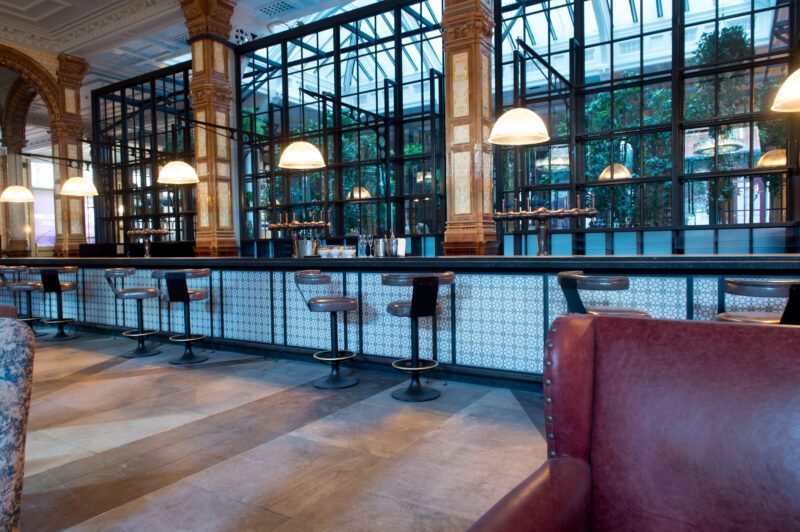 For the final countdown to the public opening of The Refuge by Volta on 14 September, graphic wallpaper posters by Jermyn will appear in key locations around the city and suburbs. Mancunians are encouraged to get involved by seeking out the wallpapers every day from 1 September onwards, sharing a photo on social media by tagging @therefugemcr on Twitter and using the hashtag #refugecountdown. Each poster will be different; Jermyn specializes in multi-coloured, geometric patterning.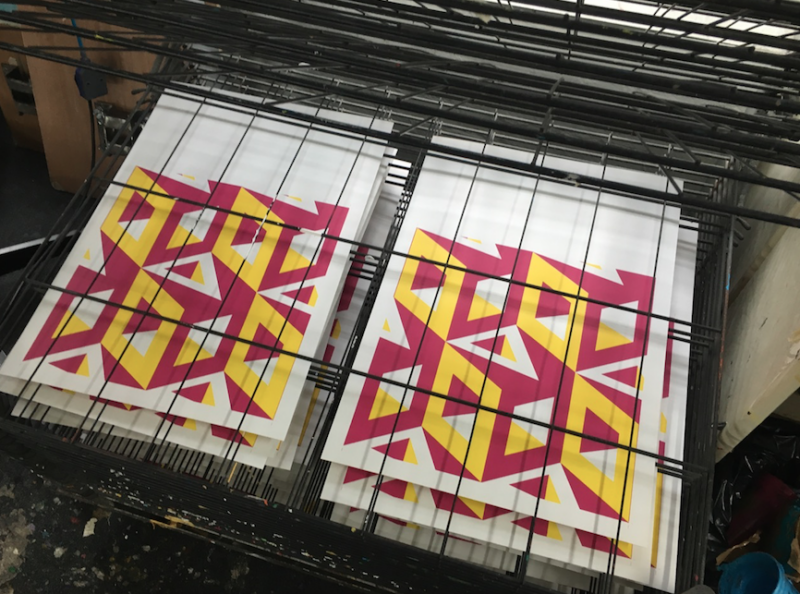 The Refuge is being hailed as a game-changer for Manchester's food scene. It's a highly-creative opening fanfare – which also includes a mysterious box in the lobby of the Palace Hotel, covered in mirrored honeycomb detailing designed by Jermyn, with its contents only to be revealed at the grand opening – is what, in our eyes, sets it apart from your usual foodie news. Get involved in the #refugecountdown for a chance to win dinner for two when The Refuge by Volta opens on 14 September – and be one of the first to experience this extraordinary new location. Best of all, everyone who participates will win a limited edition, signed screen print by Jermyn.