Comma Press and Manchester Metropolitan University Publishing Conference 2021
Sarah-Clare Conlon, Literature Editor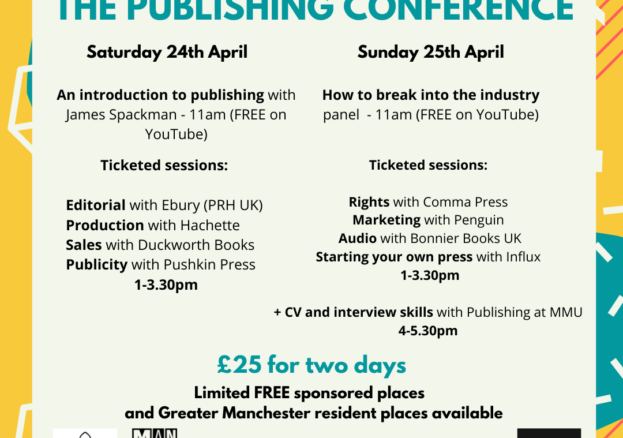 Comma Press and Manchester Metropolitan University present a two-day online Publishing Conference for aspiring and early-career publishers.
Designed to make publishing more transparent and to increase accessibility to the sector, particularly for those in the North of England where the conference would usually take place, nine sessions will be delivered by professionals from across the industry, along with two free live-streamed events: An Introduction To Publishing talk with James Spackman on 24 April and the panel How To Break Into The Industry on 25 April.
The paid part of the conference is £25 and includes the following presentations and workshops:
Saturday 24 April
Editorial with Marianne Tatepo (Ebury Publishing), 13.00-13.30
Production with Farzana Khan (Hachette Children's), 13.40-14.10
Sales with Matt Casbourne (Duckworth Books), 14.20-14.50
Publicity with Poppy Stimpson (Pushkin Press), 15.00-15.30
Sunday 25 April
Rights with Sarah Cleave (Comma Press), 13.00-13.30
Marketing with Alesha Bonser (Penguin Random House), 13.40-14.10
Audio with Marina Stavropoulou (Bonnier Books UK), 14.20-14.50
Starting your own press with Kit Caless (Influx), 15.00-15.30
Workshop: CV and interview skills with Debbie Williams (Publishing @ MMU), 16.00-17.30
A limited number of free sponsored tickets are available for aspiring publishers who are underrepresented by the industry, including people of colour, LGBTQ+ people, disabled people and those in a low-income household. There are also limited free tickets available for residents of Greater Manchester. Please email zoe.turner@commapress.co.uk to apply.