The Poetry Supertram at Writing On Air 2022
Sarah-Clare Conlon, Literature Editor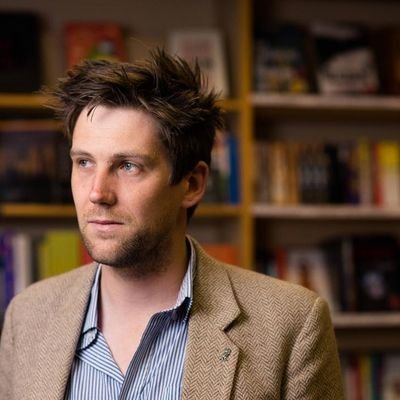 Writing On Air is a literature festival on the radio – East Leeds FM via Chapel FM Arts Centre, to be exact – with more than 50 events running 23 to 27 November.
Then there's The Poetry Supertram, which sees Ian Harker, William Thirsk-Gaskill and Joe Williams take us on a whirlwind poetry tour of Leeds.
Now in its eighth year, all programmes are conceived and created by writers, readers and performers from across Leeds and West Yorkshire, supported by the Chapel FM team. The theme of Writing On Air this time round is home. We're told to think "leaving home, finding a new home, high rents, domestic bliss and quotidian misery, belonging, identity, the bedroom ceiling's the limit".
With interviews, radio dramas, discussions and soundscapes, there are no headliners at Writing On Air and everything in the festival is broadcast to the entire world on Chapel FM Art Centre's very own community radio station, East Leeds FM. You're invited to tune in, listen again or even bob along to the free events as they're recorded live in the radio theatre.
There's a Yaffle Press showcase with readings by emerging and established writers (27 November, 6pm) and a chat with Jeremy Poynting, founder of Peepal Tree Press (23 November, 7.30pm). There's a workshop called Home On Stage when poet and performer Caitlin McKenna will help you feel more comfortable on stage, passing on tips for using microphones, hosting, audience engagement and more (25 November, 5.30pm), followed, at 7pm, by an open mic to put the skills you learn into action for an in-house and radio audience. Then there's The Poetry Supertram (27 November, 5pm), which sees Ian Harker, William Thirsk-Gaskill and Joe Williams take us on a whirlwind poetry tour of Leeds.
Ian Harker is the author of a pamphlet (The End of the Sky) and a collection (Rules of Survival) through Templar Poetry, and is publishing his second pamphlet A-Z of Superstitions through the aforementioned Yaffle Press. He's a co-founder of Saboteur Award-nominated Strix magazine and he was poet in residence at the Henry Moore Institute. He has been placed in competitions including the Bridport, Troubadour and BBC Proms Poetry Competition, and is an organiser of Leeds Lit Fest.
William Thirsk-Gaskill lives in Wakefield and works in Leeds, and is a poet and short story writer; both his debut poetry collection, Throwing Mother In The Skip, and his debut short fiction collection, Something I Need To Tell You, are published by Stairwell Books, based in York.
Joe Williams is an award-winning writer and performing poet from Leeds. His latest book, a short collection of poems on the theme of sport and games, The Taking Part was published last year by Maytree Press in 2021) and follows the critically acclaimed pamphlet This Is Virus, erasure poems made from Boris Johnson's lockdown letter to the UK, the verse novella An Otley Run, which was shortlisted for a Saboteur Award, and debut poetry pamphlet Killing The Piano. His work has appeared in many anthologies and in literary magazines including The North, Popshot, Prole, Strix, Poetry Scotland and The Blue Nib, and it has been broadcast on BBC radio. He has provided commissioned work for Ilkley Literature Festival and Leeds International Piano Competition, among others. He also hosts the now regular Leeds live lit night Chemistry.
Check out the Writing On Air website for full festival listings.