The Murder Capital at Albert Hall
Johnny James, Managing Editor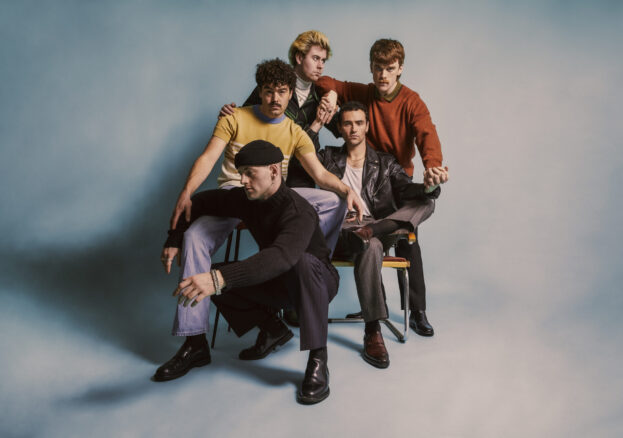 Irish post punks The Murder Capital are back with their long-awaited second record, Gigi's Recovery – the follow-up to their brilliant 2019 debut album When I Have Fears. You've got a couple of weeks to wrap it around your ears before they bring it to Manchester's Albert Hall on 16 February.
Few bands arrive as fully formed as The Murder Capital. Produced by Mark Ellis (AKA Flood), the 10 songs on When I Have Fears were written and recorded within the first nine months of the band knowing each other. When you listen to the album – as captivating as any Irish band put out in 2019 – it's hard not to be impressed. Centred around the loss of a friend to suicide, the record brims with an elemental energy that draws on post punk from Joy Division to Idles, while serving up something of its own – particularly with regards to singer James McGovern's vulnerability as he rips through topics like grief and existential anxiety with unblinking focus. It hit the UK Top 20 and number 2 in Ireland, with the Guardian calling it "an outstanding debut from a great new band who play it like they mean it."
Sold out UK and EU tours followed before the band holed up to work on the all-important second album, due for release on 20 January via Human Season. A press release tells us that while When I Have Fears captured the vital beginnings of the group, the 12 songs of Gigi's Recovery push the band into ever braver sonic territories, oceans apart from previous peers. "We had this slightly tongue-in-cheek mantra at the near-beginning of writing this record", says James McGovern. "It was – The evolution will not be compromised. This kept us on a course, even when we didn't know where we were going".
The first singles certainly fill a different space to the first album. If the bleak and thrashing first record painted the world in black and white, Gigi's Recovery erupts in purple-heathered bloom, propelled by the expansive guitar work of Cathal Roper and Damien Tuit. James McGovern's vocals have also noticeably changed. Gone are the raw, bellowed yells; now we have filigree vocal melodies which bely the singer's training as a cellist. Electronic elements are also much more prominent, with industrial influences explored in greater detail than before – a direction most likely pushed for by Grammy Award-winning producer John Congleton, known for stretching bands' sonic confines.
The Murder Capital describe the album's first single, 'Only Good Things' as "desire, in its most pure form, the desire for goodness and clarity." A bright and luminous love song, it paints a much more optimistic picture of life than When I Have Fears ever did. "We're so excited to go to a place like this because perhaps it's not what is expected of us" says McGovern. "It stood out to me during the creation of this record that it is more about the friends that are still here and celebrating those connections, those relationships and being unafraid of life and its many seasons."
The emotive and widescreen 'A Thousand Lives', paired with a striking video directed by Tommy Davies, is a similar change of pace. "A thousand lives with you and I won't be enough" McGovern sings, with a carefulness and weight to it, as though each life is a layer within the song. Speaking on the themes behind the single, he says: "Knowing that the day is only X-hours long, alongside my understanding of how love can be the true restorative seed, means that if and when you are so lucky to find it (and it is true) the seemingly small glance that is our lifetime could never contain enough of those days or those hours. Even a thousand of those lifetimes would never be enough."
The standout single has to be the gently heart-breaking 'Ethel'. It's a song of two halves and, both lyrically and musically, and presents to us a crossroads: What do you want from this life? Do you want to be burying your head in a bag of drugs or building a life for yourself? Its first half is unanchored, ethereal, flitting between major and minor keys as though giving us the options of both darkness and light. Then suddenly we go from the city, the bars, the bags, to something totally different as the track bursts open with the lyrics "I always wanted it to be like this for us / having our first kid / name her Ethel," ultimately becoming a hopeful and cathartic directive, the path forward now clear. "The idea of 'Ethel' is that you can have what you truly desire if you put to rest those short-lived fixes that never bring you any real happiness", McGovern says.
These tracks show the band in a new light, but one that still feels authentic to them; their honesty and vulnerability continues to be both preached and practiced. We can't wait to hear the new music live, in the grand surrounds of Albert Hall on 16 February.