The Mouse Outfit Christmas Special at Band on the Wall
Philip K Marzouk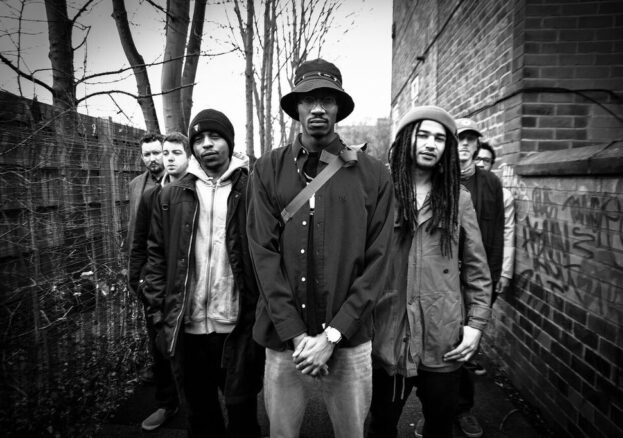 Manchester stalwarts and hip-hop kings The Mouse Outfit are returning home with their inimitable and unmissable live show at Band on the Wall. The founding members of the group, keyboard player Chini and bassist Defty, will be joined by some of Manchester's peak rappers and vocalists. Long-time collaborators Berry Blacc, Dubbul O, Ellis Meade and KinKai will be on the mic, supported by Phil Ratcliffe (guitar), Adisa Allen (drums) and Aaron Wood (trumpet); nine members of a twenty-plus crew.
Since forming in 2007, The Mouse Outfit always kept live instrumentation and collaboration as a fundamental part of their work. They put on shows that impact crowds in a way that backing tracks never could due in no small part to the technical talents of Chini, Defty and the musicians they work with. Starting as the live band for a Manchester-based open mic night called In The Loop, they've proudly maintained that collaborative ethos until today. The power and quality of their live show was at the forefront of why Antwerp Mansion became such a household name in its heyday. The Mouse Outfit shows that took place there took on legendary status. Everyone knew they were seeing the beginning of something special in those early days.
It would take until 2013 for them to commit their extensive work and collaborations to press in the form of their stunning debut album, Escape Music. Rightly so, the album was decorated with a deluge of awards, and they haven't stopped coming since. Their follow-up, 2015's Step Steadier earned the number nine spot on ABC News' 50 Best Albums of 2015. Who are ABC News you ask? They're an American news network on par with CNN; such is the extent of The Mouse Outfit's meteoric rise and extensive reach. It remains to be seen how their 2018 album, Jagged Tooth Crook, will fare on the end of the year lists but given its quality, it deserves the highest of praise.
Testament to their core values of collaboration, The Mouse outfit worked with 29 musicians, producers and vocalists to bring Jagged Tooth Crook into being. I wonder how they have produced such a cohesive body of work over the album's 17 tracks with so many people involved in its production. Those core values of collaboration aren't mere lip service but a reflection of a sincere collectivist approach. To this writer's mind, Jagged Tooth Crook and The Mouse Outfit's other works, stand tall beside the titans of the early nineties hip-hop scene. To talk about The Mouse Outfit alongside groups like The Pharcyde, A Tribe Called Quest, Digable Planets or Fugees is not blasphemy, it's fair comparison. No wonder the lead single off the album, 'I Wonder feat. IAMDDB and Fox', has reached almost 1.5 million views on YouTube.
Following The Mouse Outfit's live set, hip-hop and funk DJ El Statiko will be keeping the vibe going, not only with his selection of tunes but with his collectivist philosophy. Although he'll be solo on the decks at this event, El Statiko is part of two Manchester DJ collectives: The National Curriculum and Taste The Diff'rence. Watching El Statiko at work, you see a man who views DJing as a craft, a technical art. It follows that he won UK Champion 2015/16 at the International DJ Association awards.  Finally, The Mouse Outfit will be seeing out the night with a DJ set of their own.
Against a backdrop of corny, endlessly-repeated Christmas tunes playing at the same old nights, attending this show is how you usher in Christmas with style.