Amy Romer: The Dark Figure* at Open Eye Gallery in Liverpool
Sara Jaspan, Exhibitions Editor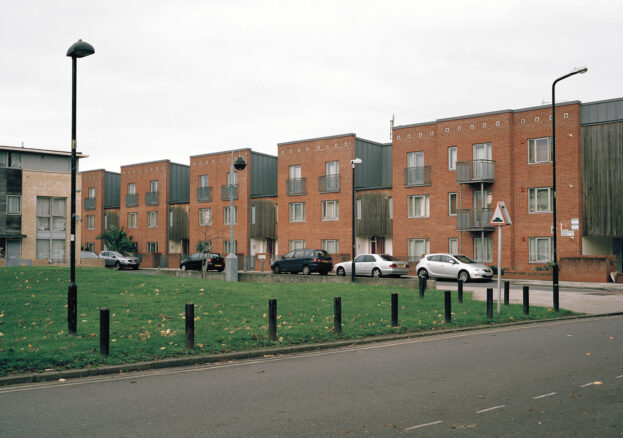 Without any context, Amy Romer 's photo series could easily be mistaken for nothing more than a study in ordinary British suburbia. We see no people or activity, simply nondescript terrace houses, new-build flats, 60s semis, residential streets and children's play areas. Yet it is in the very absence of anything visibly remarkable or untoward that the work's power lies.
About to go on display at Open Eye Gallery in Liverpool, The Dark Figure* confronts us with the hidden yet pervasive presence of slavery in the UK. The images within the collection map the immediate surrounding neighbourhoods where modern slavery crimes have taken place – revealing the issue as one that extends far beyond nail bars, carwash forecourts and factory floors, into residential settings and potentially even neighbouring homes. Each location appears shockingly familiar, like somewhere you might encounter every day.
In 2015, the UK Government passed the Modern Slavery Act, a new piece of legislation to raise awareness of the existence of slavery in the 21st century, while highlighting the growing occurrence of forced labour, human trafficking and sexual exploitation across the country. Exact figures are hard to assess, however. The National Crime Agency (NCA) reported 5,145 cases in Britain in its 2017 Strategic Assessment, but this only takes into account individuals who have been identified, rescued and given testimony – the actual number is estimated to be between 10,000 and 13,000. Coined by the statistician Professor Bernard Silverman, 'the dark figure' is a phrase used to describe these undetected cases.
Open Eye Gallery is located just meters from the Liverpool docks, where slave ships bound for Africa once stopped to load goods and for repair. Around the corner is the International Slavery Museum, where the city's prominent role in the transatlantic slave trade is well documented. This geo-historic context makes the presentation of Amy Romer 's The Dark Figure* all the more powerful – highlighting the existence of slavery in Britain today whilst equally reminding us of former legacies of enslavement.