Stereolab at Albert Hall
Johnny James, Managing Editor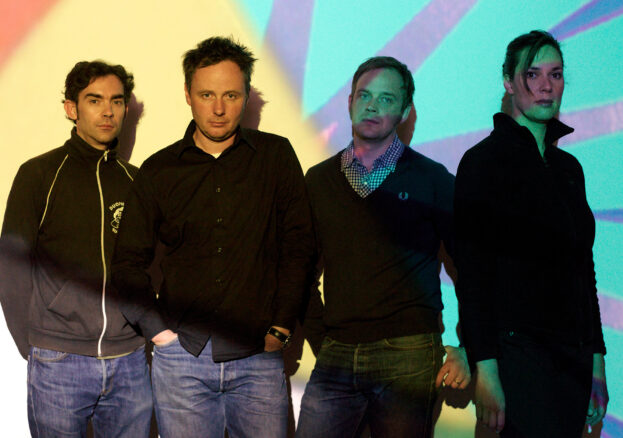 This event has been postponed due to illness.
Authors of some of the most distinctive music made in the 90's, Stereolab and their extra-terrestrial pop were hugely influential across the decade and beyond. Splicing together fringe genres like Krautrock, lounge-pop and bossa nova, they coined a new language – one that many others then adopted (or poorly emulated). Twenty years and ten albums into their career, the pioneering group announced their hiatus, back in 2009. Flash forward a decade, and that hiatus is now over. Supporting a campaign to reissue all seven of their original Elektra studio albums released between 1993-2004, Stereolab will tour across Europe and the US, in a yearlong celebration of their best work. Most importantly, they'll be calling at Manchester's Albert Hall on the 19 June.
Formed in 1990 by analogue gear fanatic and record lover Tim Gane and his then partner, French singer Lætitia Sadier, the band's early singles and EP's looked to 60's pop stars on the one hand and to Krautrock bands like Faust and Neu! on the other. The resultant combination of singsong melodies and droning hypnotic rhythms was startlingly different to the zeitgeist, made even more unusual by Sadier's French lyrics promoting revolutionary, Marxist politics. Released in 1992, their joyous debut album Peng! was filled with bouncy, upbeat tracks that fast became underground and college hits. The more eclectic and experimental Transient Random-Noise Bursts with Announcements soon followed. Lauded by the likes of Sonic Youth, Pavement and Blur, the record saw the band test the limits of their hypnotic powers, with 10 motorik and kaleidoscopic tracks that either turned people off entirely or utterly captivated them.
Their sound evolved again with Mars Audiac Quintet, which was lusher and denser – a stepping stone to 1996's Emperor Tomato Ketchup, the band's first masterpiece. More accessible than their previous records, this record is built from simple, hook-filled pop melodies which sit atop complex, multi-layered countermelodies. Within these textures are influences from across the genre spectrum – Terry Riley's ramshackle minimalism, Pink Floyd's pastoral psychedelia and Soft Machine's progressive rock are all in there, to name just a few. But whilst this recombinant pop is all very clever, the record also offers simple pleasure in its sheer catchiness. Take the twisted jazz banger 'Perculator', or the infectiously whimsical 'Les Yper-Sound' – these great songs dig their hooks in as deep today as they did nearly 20 years ago. The marathon opener, 'Metronomic Underground' is also pretty remarkable – eight minutes of alien trip hop shouldn't be such an earworm.
Riding on the wave of Emperor's success, Stereolab released their next record to unprecedented commercial acclaim. Their first album to arrive on the Billboard charts, 1997's Dots and Loops is for many the perfect realisation of the sound that Gane and Sadier had strived for since 1990. Pairing warm analogue synths with lush beds of strings, brass and tuned percussion, it's a luxurious, sumptuous record, made for mental submergence. But for all of the catharsis that it offers, there are also some pretty off-the-wall moments here. Tracks like 'Brakhage', 'Diagonals' and 'Parsec' have got to be among 1997's most future-leaning pop songs, managing to draw graceful threads between disparate genres like IDM, calypso and classical. Add Sadier's dulcet lullaby politics to the mix and the result is bizarre and brilliant in equal measure.
The band were fairly prolific for another 12 years after Dots, releasing eight more albums before their 2009 hiatus. None quite matched the greatness of those early records, though, hence the Elektra years being the focus of band's long-awaited return. We can't wait to see and hear these amazing, forward-thinking songs come to life once again at Manchester's Albert Hall, ten years after they were last played live. It's going to be a special night. Don't miss it.