Stealing Sheep at YES
Johnny James, Managing Editor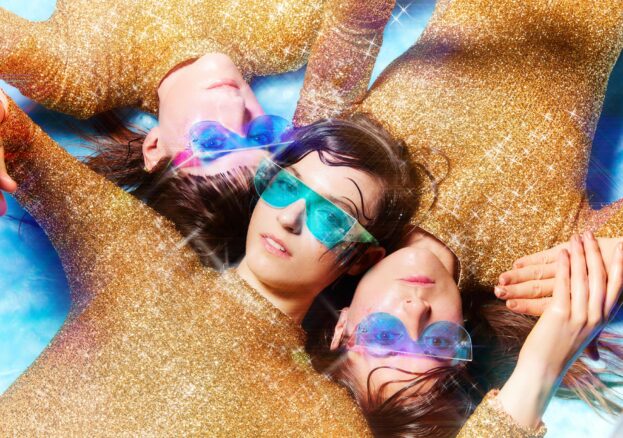 It's been seven years since Stealing Sheep released their delightfully strange debut album, Into the Diamond Sun. Spanning kraut, psych, folk and indie, its celebratory yet disconcerting tunes caught the ears of many. Characterised by richly layered vocal harmonies and fizzy electronics, the trio presented a bold soundworld that was impressively distinctive for a first record. Impressive too was the quality of the songwriting. Delivering hook after hook, tracks like 'Shut Eye' wormed their way into our heads and refused to budge.
Bold neon pop songs which marry dystopian irony with sugar-coated optimism.
Next up was 2015's Not Real, in which the trio crystallised the vision they laid out in their debut. They also dialled up the darkness, which, paired with their childlike whimsy, made for some really interesting tracks. 'Apparition' is a particular highlight. Mysterious and hypnotic, its warm and richly-layered vocals sit atop cold synths and sinister drums, to unnerving effect. The title track is a lighter affair, featuring an eccentric, art-school-tinged arrangement of what is at its core a great pop song.
Following on from Not Real, album number three is now looming on the horizon. We've heard two songs from it so far, and both have been great. Heavier, harder and weirder than their previous work, 'Jokin' Me' and 'Show Love' are bold neon pop songs which marry dystopian irony with sugar-coated optimism. Taking shape over a period of nearly three years, the record is apparently a response to living in a tech era, with information overload being a key theme.
Entitled Big Wows, the record is out on the 12 April. You'll thus have two weeks to learn all of the lyrics before the trio takes over YES' Pink Room for two nights. The first has long sold out, and you better act fast to get in on the second. With tickets priced at a mere £11.50 and pints at £2.95, this FRIDAY NIGHT GIG is going to be sweet!