Shame at YES
Johnny James, Managing Editor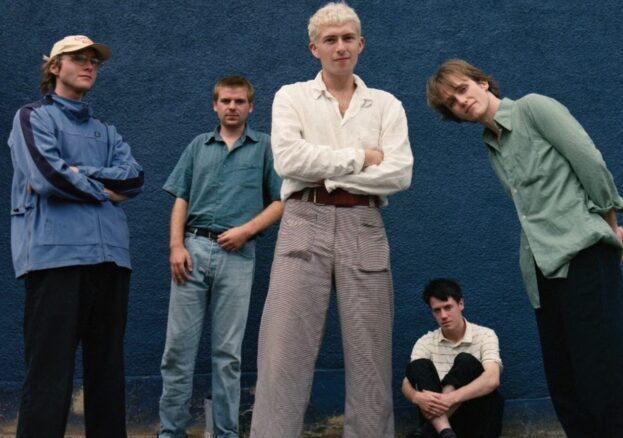 In support of their long-awaited second album, abrasive London five-piece Shame are heading out on a socially-distanced tour.
It's been almost three years since Shame released their triumphant debut, Songs of Praise. One of the standout guitar albums of 2018, it saw the band heralded as the leading lights of a new South London guitar scene, which sought something beyond a slice of the post-Britpop lads-with-lagers crowd.
Emerging from the same Brixton pub that nurtured ragtag reprobates Fat White Family, Shame are likewise descendants of post punk bands like The Fall and Gang of Four. They also share the same penchant for sardonic humour and debauched showmanship, but their white-hot ferocity sets them apart from their peers.
A perfect balance of youthful rage and acerbic wit, Songs of Praise – despite the easy comparisons – bites with a venom that is its own. Front to back, the record is packed with unlikely anthems made out of menacing guitar hooks, raucous vocals and sordid, self-effacing lyrics.
"My voice ain't the best you've heard/And you can choose to hate my words/But do I give a fuck?" growls frontman Charlie Steen in lead single 'One Rizla', as if laying out Shame's manifesto. The band, it becomes clear through the record, are aware of their limitations and aren't looking for worship. They're just looking for a place to channel the chaotic thrills of post-adolescence – or, as Steen puts it in 'Friction', "I am trying to exist/In a momentary cyst".
Arriving on 15th January via Dead Oceans, Shame's new album, Drunk Tank Pink, promises a change of pace. It's inspired, we're told, by a period of time over which Steen came to realise that drinking and partying weren't actually going to solve all of his problems. "You become very aware of yourself and when all of the music stops, you're left with the silence," Steen said in a statement. "And that silence is a lot of what this record is about."
So far we've heard two singles: 'Alphabet' and 'Water in the Well'. Despite the indication of more reflective tunes to come, both of these are angular, raucous belters in which Steen actually sounds more jocular than ever. 'Water in the Well' is particularly great. Replete with twitchy guitar lines, stop-start drums and elastic sounding vocals, at times it leans into early Talking Heads, and at others the scuzzier side of the post punk canon. Characteristically unsettling but also playful, these tracks show that despite the post-tour comedown, Shame haven't forgotten how to have a whole lot of fun.
The excitement for their new album, compounded by the excitement about basically ANY GIG right now means that their shows will sell out in minutes, so set your alarm.