Ruth Ewan & Oscar Murillo at Yorkshire Sculpture Park
Sara Jaspan, Exhibitions Editor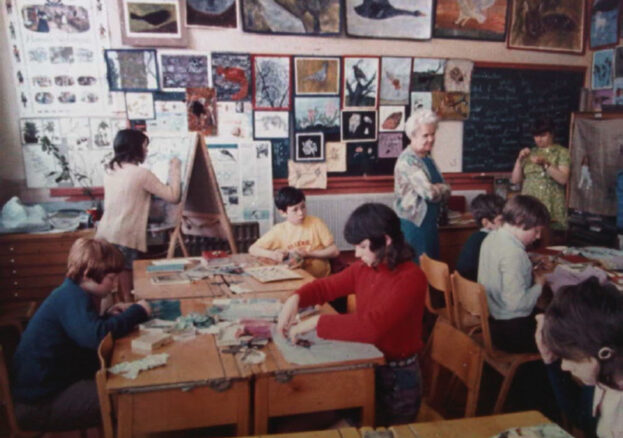 As schools head towards the summer holidays, Yorkshire Sculpture Park invites audiences to step back into the world of learning and reflect upon the importance of creativity within education as part of a significant exhibition of work by artists Ruth Ewan and Oscar Murillo (shortlisted for the 2019 Turner Prize).
Ewan's new participatory installation centres around a faithful reconstruction of a 1972 primary school classroom led by the untrained teacher Muriel Pyrah in the nearby village of Castleford (Wakefield). Pyrah pioneered an experimental methodology called 'Asking Out' that encouraged peer-to-peer and self-directed learning, and which drew national media attention at the time. The classroom walls will showcase a display of her pupils' original paintings, drawings and embroidery from the National Arts Education Archive at YSP, and visitors will have the opportunity to make their own contributions to the space through engaging in the unconventional creative activities that Pyrah developed.
By contrast, artist Oscar Murillo focuses our attention on the classroom experience for school pupils around the world today. At YSP, he will present a vast display of over 80 canvases from his epic project, 'Frequencies', which he developed in collaboration with political scientist Clara Dublanc and has so far travelled to more than 30 countries. Each canvas is produced over the course of six-months spent attached to a pupil's desk, during which time they are free to mark it in whatever way they chose – with doodles, scribbles, notes, drawings, messages – resulting in a palimpsestic record of the unregulated, ordinarily unauthorised creative activity that occurs within lessons.
The exhibition occurs within the context of Yorkshire's historic role in the movement to integrate art and creativity more fully within education. Ewan's contribution builds specifically on the ideas of the English art critic and anarchist Sir Herbert, and the innovative Chief Education Officer of the West Riding of Yorkshire County Council (1945 to 1974) Sir Alec Clegg, both of whom were from the region and believed passionately in the need to encourage children's natural creativity in order to allow them to become 'fully-rounded' individuals.
Ruth Ewan & Oscar Murillo forms the latest installment in a series of exhibitions at YSP designed to prompt discussion around the importance of arts and cultural learning in schools, museums and galleries.