RNCM Symphony Orchestra with Clark Rundell at RNCM
Johnny James, Managing Editor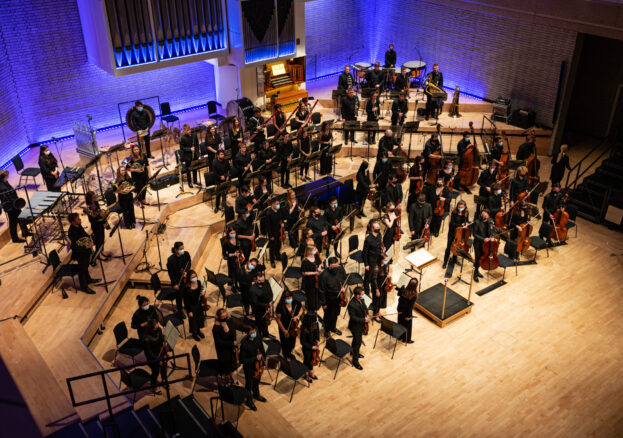 Part of the RNCM Spring Season, the College presents a programme of works by its composition tutors alongside leading contemporary composers, brought to life by the RNCM Symphony Orchestra.
One of the programme's highlights is Gary Carpenter's BBC commission Dadaville (2015), inspired by Max Ernst's 1924 artwork of the same name, which the composer encountered by chance at Tate Liverpool. "It looked like a painting", Carpenter says about Ernst's work, "but is actually a sculpture of a seemingly impenetrable iron wall that is in fact made of a cork so fragile that it is kept behind glass for fear it might crumble if touched". Carpenter's piece imagines what's behind this strange barricade. Featuring plenty of symbolic significance, it includes extensive percussion as it journeys from spiky modernity via ethereal dreamscapes to dazzling funk – a real showpiece for the RNCM Symphony Orchestra.
Next, we'll then hear Emily Howard's Magnetite (2007), the professor's first major orchestral commission for the Royal Liverpool Philharmonic Orchestra. Magnetite is the most magnetic of all naturally occurring minerals found on Earth, and for many years after its discovery, it was surrounded in myth and superstitious beliefs concerning its magical powers. Howard describes her piece as "a journey deep inside one of these crystals", inspired not only by its physical properties but also its supposed metaphysical ones.
Two works by leading contemporary composers complete the programme. First it's Steve Reich's Music for Ensemble and Orchestra (2018), an extension of the Baroque concerto grosso form which calls for more than one soloist. Here there are 20 soloists, including two vibraphones and two pianos. Conceived in five movements, the work's large-scale design is characteristically tethered to small-scale processes, with members of the ensemble echoing, chasing and overlapping one another as they exchange fragments of the melodic material. The tempo never changes, but the speed varies from movement to movement via different note values, while the constant exchange of instrumentation brings to the piece a kaleidoscope of colours.
Finally we have a wonderful work by Louis Andriessen, considered the most influential Dutch composers of his generation. Arranged and conducted by Professor of Conducting, Clark Rundell, Rosa's Horses is a 25-minute suite, best described by Rundell himself: "From the first bar of wildly chasing canons led by the saxophones, the piece hurtles through music which evokes the sound world of a pastiche Spaghetti Western, full of energy, wit and irony. However, these helter skelter moments remain carefully balanced with moments of utter beauty, even timeless suspension".
This concert, which takes place on Sunday 19 March, promises to be a highlight of the RNCM Spring Season, and a rich showcase of the talent of both students and tutors at the College.