RNCM Chamber Choir with NEW Sinfonia at RNCM
Johnny James, Managing Editor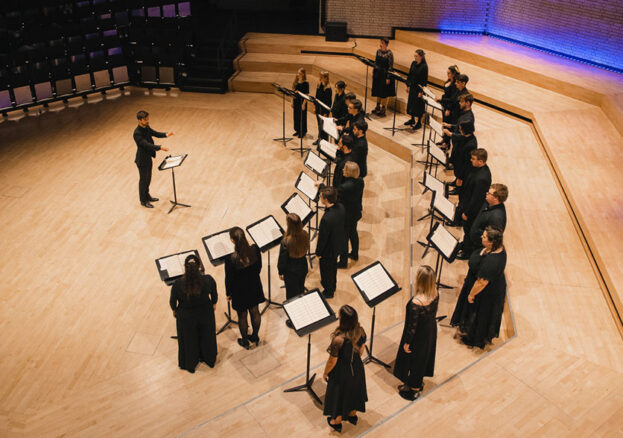 This June, NEW Sinfonia and the RNCM's most promising vocalists are joining forces for an evening of orchestral works by Benjamin Britten and Aaron Copland, plus Mozart's treasured choral work, Solemn Vespers.
NEW Sinfonia are an orchestra made up of professional musicians from across North Wales and beyond, and currently act as the Orchestra in Residence at the North Wales International Music Festival. With a special focus on encouraging young people to get involved in music – both playing and listening – NEW Sinfonia are all about "NEW Experiences, NEW Audiences, NEW Wales".
They kick off tonight's concert with Benjamin Britten's Simple Symphony, one of the composer's early orchestral suites. It's by turns wistful and mischievous as it recollects childhood as a state of innocence wherein one is both vulnerable and powerful. We'll then hear Aaron Copland's Quiet City, based on incidental music he wrote for Irwin Shaw's play of the same name. The music treads the path of Shaw's main character, a Jewish immigrant who abandons his heritage to pursue the American dream only to be continually recalled to his roots through the haunting sound of his brother's trumpet playing.
Last comes Mozart's Solemn Vespers, for which NEW Sinfonia will be joined by the RNCM Chamber Choir, an auditioned ensemble of 24 voices, along with students from the College's esteemed School of Vocal Studies and Opera. The six-movement choral work was written for Salzburg cathedral in 1780 – a particularly difficult period in the composer's life, due to the Archbishop placing fairly severe restrictions on his writing style. But this only fuelled Mozart's fire; each exuberantly imaginative movement seems an attempt to overcome the restrictions in a different way. Although a sacred work, Mozart's love for opera shines brightly, as does the setting of Laudate Dominium for soprano soloist and choir found within this stunning work.
The concert, which forms part of the RNCM's eclectic Summer Season, is conducted by Anna Beresford, who this year won the NYBBGB Weston Conductors Competition. As one of the leading lights of RNCM's MMus Conducting course, we look forward to hearing how this wonderful programme sounds under her baton.