Rival Consoles at RNCM
Johnny James, Managing Editor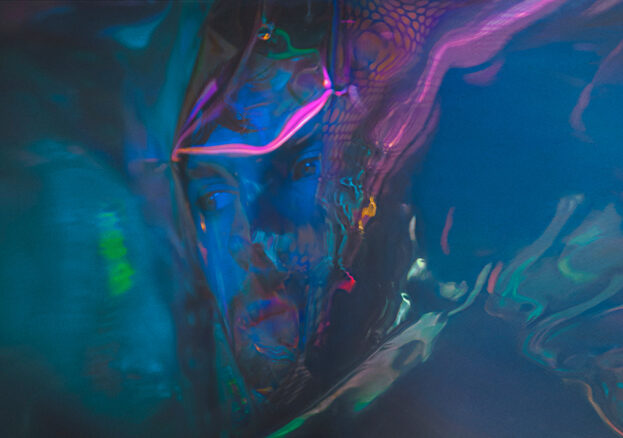 London-based producer Ryan Lee West – better known as Rival Consoles – is on the cusp of releasing his seventh studio album. His latest music conjures vast, eerie landscapes that depict the age of data and algorithms, while also bristling with organic life.
Erased Tapes' very first signee, whose music strikes a similar chord to that of Jon Hopkins, Max Cooper and Nils Frahm, was last seen live on stage with 17 players of the London Contemporary Orchestra for a sold-out orchestral performance at the Southbank Centre in January 2020. Now, he's taking his 2020 album Articulation and his forthcoming album Overflow on the road, stopping off at RNCM on 10 October.
West grew up playing the guitar and listening to rock rather than club music. This meant that when he later discovered the possibilities of electronic music, he naturally reached for a wider spectrum of musical ideas than most young producers. At times spiky and imposing, at others starkly beautiful, his tunes evoke human emotions with digital sounds, at a cross-section between home listening and larger spaces.
Articulation, which followed 2018's Persona, was conceived with a very visual way of thinking, unusual for the London musician and producer. During the writing process Ryan drew structures, shapes and patterns by hand to try and find new ways of thinking about music, giving himself a way to problem-solve away from the computer. The album title references a piece by the avant-garde contemporary composer Györgi Ligeti, though not for its music, but for the non-traditional graphic score that accompanied it.
"I find electronic music is often battling to say something with integrity because technology and production can easily get in the way", says West. "I think the goal of a lot of electronic composers is to find a balance between the vision of the idea and the power of possibilities on the computer. With a pen and paper sketch you can compose and rethink ideas without technology getting in the way, so for me it acts as a very helpful tool to refresh the process."
Overflow is, by all accounts, a similarly thoughtful affair: a resonant and explorative soundscape of original music, composed for renowned choreographer Alexander Whitley's contemporary dance production Overflow. Exploring themes of the human and emotional consequences of life surrounded by data, the album – which West sees as an extended piece of music – echoes the concept of social media, advertising, marketing companies and political factions exploiting our data to gain wealth, political advantage and sow division.
"The piece opens with 'Monster' which has a kind of drunken madness to it, highly repetitive to mirror the repetitive nature of how we as humans engage with technology such as social media. It's sometimes edging towards chaos but yet always returning back to the same starting point, but eventually giving way to exhaustion." states West. Listen to the track, which dropped on 4 October, above. The full album is due for release on 3 December 2021, though the live show at RNCM will no doubt see a number of new tracks debuted.
West has taken his increasingly dynamic live A/V show to all corners of the world – from bespoke performances at the Tate and the V&A Museum featuring self-programmed visuals in Max/MSP to international festival appearances at Sónar, Moogfest, FORM, Mutek, Big Ears, Lovebox and Roskilde. His live set is all-consuming; the music on its own is so intense and atmospheric, but wild live visuals and a shape-shifting light show elevate it to new heights. It's been a while since we've had a chance to see an electronic show of this calibre in the flesh; we're expecting great things.
Support on the night comes from Kayla Painter, composer, producer and sound design artist. Painter's immersive, ever-evolving AV performances, made in collaboration with visual artist Jason Baker, are a natural consequence of the entire writing process, with the visuals tapping into the earliest stages of her music. A passionate explorer of the creative potential within field recording, her compositions bristle with self-sourced timbres, bringing a sense of organic rawness to the whole thing; like Rival Consoles, this is electronic music with a beating heart – well worth heading down early for.