Richard Dawson & Circle at Gorilla
Johnny James, Managing Editor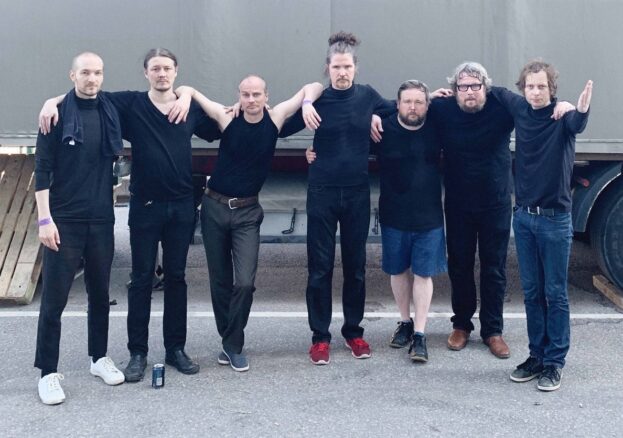 Following the release of their brilliant 2021 LP Henki, Richard Dawson joins forces with Finnish band Circle to bring their wild collaborative record to life on the Gorilla stage.
Henki is the greatest flora-themed hypno-folk-metal record you'll have heard in recent years. Let's begin with the mighty twin forces behind it.
Richard Dawson became the least likely critical success story of 2017 with his off-the-wall folk record Peasant – a dense kaleidoscope of 6th century character studies set in the kingdom of Bryneich, known today as Dawson's native North-East. A creative handbrake turn came with his 2019 album, 2020 – a contemporary, state-of-the-nation address to a country increasingly ill at ease with itself. Staggering from avant-folk to noise rock to lo-fi indie, it was released just prior to the pandemic, but its underlying themes of anxiety, the nation's collective psychic crisis and a gradual slide into dystopia spoke presciently to the country's disarray.
Circle, meanwhile, are one of the most idiosyncratic Finnish rock bands from the past decades, and their output is even more eclectic than Dawson's. Formed in 1991 in Pori, Finland, the band started as a three-piece making aggressive music with influences including Spacemen 3, Loop and various grunge bands. Later they became more interested in the Krautrock scene, with their third studio album, Hissi, being heavily influenced by the likes of Can and Neu!. An ever changing line-up came with an ever-changing sound, from the trippy concept album, Pori, to the more aggressive, prog-oriented Andexelt. Oh, and did I mention that midway through their career they began singing lyrics in their own, self-made language?
While each act was doing their own weird and wonderful thing, they were watching the other do theirs. Eventually, Circle invited Dawson to accompany them for their set at Helsinki's Sideways Festival in 2019. Dawson recalls the moment: "It was like being a teenager and suddenly being asked to go onstage with Iron Maiden. That's how important this band are to me". Having pulled that off, they started exchanging demos before they finally got in a room together in Pori to set off on their journey proper.
Dawson explains the album's title: "The word 'henki' roughly translates as 'spirit'. It's a very rich word, supple in its meaning in the same way as the Geordie 'canny'; difficult to pin down." True to its name, while Henki is influenced in part by heavy metal bands and in part by folk, it does not sound like any metal or any folk album you will have heard before. For one thing, few albums are filled with songs about plants. Inspired by Circle's guitarist Janne Westerlund instructing the group during recording to be less straightforward and more "like a plant", each of Henki's seven tracks deal with special plants throughout history, using them to tell us something about ourselves – the extinct plant silphium, for example, is a jumping off point for Dawson to meditate on loss and separation.
The album is as esoteric and eccentric as it sounds – an experimental collage of genres and ideas that see two differing musical cultures collide in an incredibly natural-sounding way. Dissonance, beauty, error and lots of going way, way off the beaten track; it's a classic Richard Dawson album and a classic Circle album – a sum of its parts, but in the best way. Give it a full spin below, ahead of the show at Gorilla on 8 July.