Rear View at The Piece Hall
Kristy Stott, Theatre Editor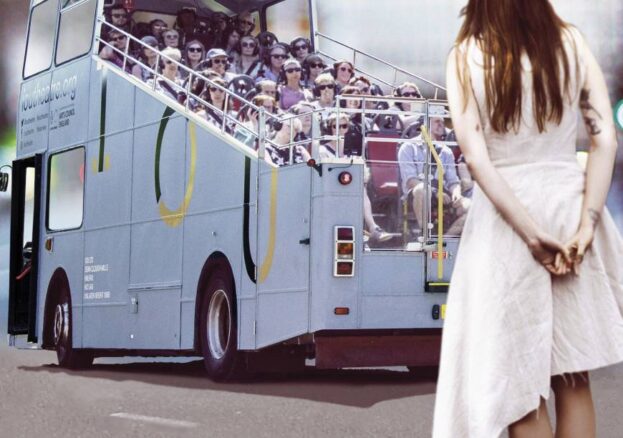 Rear View is a completely unique performance which uses the real-life streets of Halifax as a theatrical backdrop for a totally mobile performance. The audience are invited to take a seat on a special custom-built double-decker bus which will take them on an unforgettable journey through the historic Yorkshire town. Sitting on the double-decker bus, each audience member will wear a headset as they watch the story play out in front of them. Rear View provides the perfect opportunity to see Halifax as you've never seen it before, with those well-known landmarks and less familiar places becoming the canvas for the production.
Devised by IOU arts organisation, Rear View manages to blur the boundaries between real-life and fictional storytelling as the audience follow the life of a young woman through the highways and byways of Halifax. Poets Cecilia Knapp and Jemima Foxtrot lead in taking the audience on an extraordinary journey to explore the ways that our perception of the world can change as we grow older.
IOU is a thriving creative organisation with over 40 years experience of producing highly original live performance and contemporary art installations. Combining different art forms with innovative technology, IOU present brand new work in unconventional indoor and outdoor performance spaces as well as established touring venues and galleries. Following the success of Rear View in other UK towns, the bus now returns to its home in Halifax and the place that the idea was originally conceived.
Running at just 80 minutes long, Rear View is a great opportunity to see Halifax with fresh eyes and catch a high-quality piece of perception-altering and profound theatre.