Rambert: Death Trap at York Theatre Royal
Kristy Stott, Theatre Editor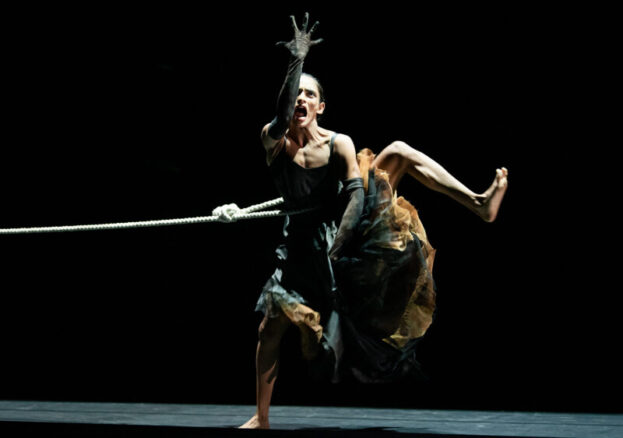 Following the success of their Peaky Blinders tour, the ever-brilliant Rambert are back with – Death Trap – two exceptional dance works created especially for them by Ben Duke.
Always front-runners in the dance world, Rambert continue to lead with their exhilarating and innovative choreography. Always forward-thinking, the company are known for collaborating with some of the most exciting creatives – giving them the freedom to lead wherever their vision and imagination takes them. Now, the company bring Death Trap, two short dance pieces – "darkly funny and packed with originality" to York Theatre Royal.
An irresistible double-bill of movement co-produced by Rambert and Théâtre de la Ville, Death Trap is described as a "meta dance comedy, full of the turbulence of life and death". The first piece, Cerberus is a bittersweet contemplation on myth and mortality, with a good dose of funeral couture. The second part of the double bill – entitled Goat – offers a pleasing contrast and is inspired by the music and spirit of Nina Simone. Darkly funny and deeply moving, the performance unpicks the pleasure and pain of performance. Expect a live on-stage band performing all of Nina Simone's iconic songs including 'Feeling Good', 'Feelings', 'Life' and 'Ain't Got No/ I Got'.
Rambert and Ben Duke are both trailblazers of dance theatre. Delivering captivating narratives through awe-inspiring movement, they reveal the absurd, the savage and the funny through performance. Ben Duke is the co-founder and artistic director of Lost Dog and his work often explores the overlap between dance and theatre. First presented in October 2017, Goat was Duke's first work for Rambert and was a huge success, garnering a nomination for Best New Dance Production in the 2018 Olivier Awards.
Rambert's shows are always an utter joy to watch. Packed with wit, athleticism and ingenuity, this contemporary dance double-bill promises to be another treat from a company that shows no sign of standing still.