Pottery at Earth Pig Pottery and Fine Art in Buxton
Vicky Smith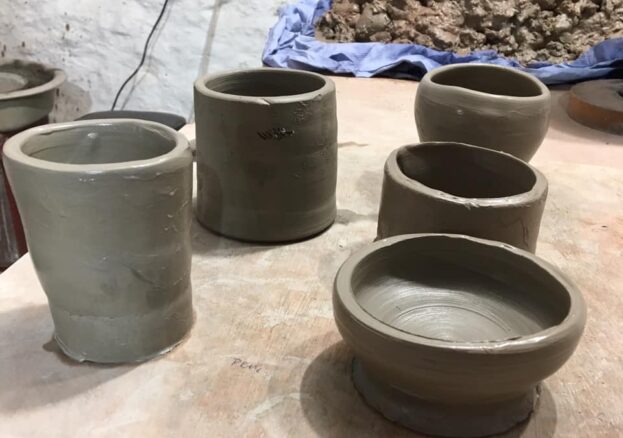 Earth Pig Studio is based at Buxton's Green Man Gallery; a longstanding community arts hub, shop and gallery currently located in a Victorian building called Hardwick Hall. The studio is run by friendly couple Geoff Chilton and Amanda O'Neill, both of whom sell their work via outlets like Green Man alongside offering pottery classes.
The standard cost is £20 per person per hour and all classes are tailor-made depending on your ability and desired duration, whether a one-off taster or series. They can work around your preferred times, including evenings, too. Sessions are for adults aged 18 and over, although children from 14 upwards can attend if they are accompanied by an adult, and a maximum of three people can be accommodated.
Beginners' classes focus on the basics of throwing, a handy kickstart for those who fancy having a go with the kiln but have little or no experience of ceramics, and are geared towards students completing a pot by the end of the session. You can choose your best piece to be fired (note you'll have to wait at least 24 hours before collecting due to the time required for the clay to properly dry) and additional raw pieces may be fired at a cost of £2.50 each. If there's time left, you can opt to try some other techniques or decorate your work.
The studio is equipped with three potter's wheels, a slab roller, a clay extruder and an array of tools which students are free to use for their projects during their time at Earth Pig.
Know someone who's potty about pottery (or at least might enjoy a try)? Vouchers are available for any amount and can be bought from the gallery shop on the ground floor.