Portico Quartet at Gorilla
Fergal Kinney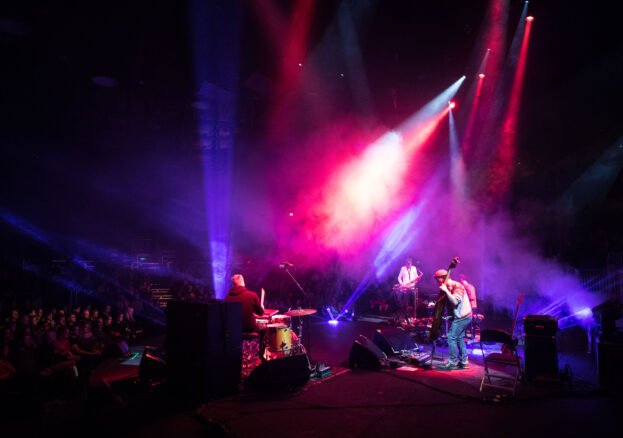 "We don't draw our inspiration from jazz music" explained Portico Quartet saxophonist Jack Wylie, "as much as we draw our inspiration from techno, electronic music, and rock." When they formed in 2005, this made Portico Quartet difficult to define – but increasingly, the roadmap they've paved out in the decade and a half since their formation has made them slightly less singular, instead acting as a siren of what would come.
In their decade and a half career, they've played no small part in creating the space for the new British jazz moment, taking the scene from a worthy fringe concern to one of the most vital energies in contemporary British music. Initially, their music was hard to pin down as jazz – too cosmic, too electronic – but now it's hard not to view their 2008 Mercury Prize nomination for 'Knee-Deep in the North Sea' as something of a turning point for new British jazz in general. Think about Portico Quartet's ambitious fusion of electronica, dub and jazz, and the line you can draw between their rise and artists like Sons of Kemet, Ezra Collective and Comet is Coming.
Back with their new record and regrouped as a four-piece – centred on Duncan Bellamy (drums), Milo Fitzpatrick (double bass), Nick Mulvey (hang and percussion) and Jack Wylie (soprano, tenor saxophones and electronics) – their new album Memory Streams sees the group continuing to offer a futuristic, cosmic vision of what jazz can be. Note the lush electronics and bold maximalism of the first track premiered from that release, 'Signals in the Dark'. As a live draw, Portico Quartet have never been so popular, selling out two nights at Camden Roundhouse in 2018. Growing ever more relevant and exciting, don't miss them at Gorilla this November.