Opus Kink at Band on the Wall
Johnny James, Managing Editor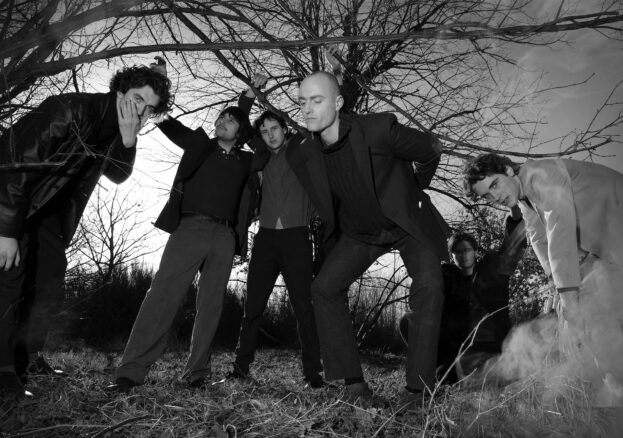 Finding an unlikely meeting place between horn-fuelled jazz and raucous punk, Opus Kink are one of the most exciting bands signed to London's cult indie label Nice Swan. In support of their second EP, My Eyes, Brother! which has just arrived on streaming sites, they're kicking off their tour at Band on the Wall.
Hailing from Brighton, the enigmatic collective – comprised of Angus Rogers, Sam Abbo, Fin Abbo, Jed Morgans, Jazz Pope & Jack Banjo Courtney – burst onto the scene in 2018. Their brass-led, darkly charged music quickly generated a buzz, largely due the band's hectic, unpredictable live shows, full of experimentation and grim theatre. These formative shows, coupled with a slew of explosive singles, led to them to sign to Nice Swan for their debut EP, Til The Stream Runs Dry, which dropped in early 2022.
Described by the band as "six songs of bad love, ill winds, possession, stagnation, and earthly delights", the EP held up a patchwork of dizzying, absurdist material that made mincemeat of genre. Frenetic singles 'I Love You, Baby', 'The Unrepentant Soldier' and 'Dog Stay Down' caught praise from all corners of the press landscape, with DORK describing it as "Part Orville Peck yeehaw, part Fat White Family mayhem, always at the peril of derailing but somehow still in control – the adrenaline rush that comes from both situations is addictive".
"Welcome to the pit of joy" say the band by way of reintroduction, as their follow-up EP My Eyes, Brother! crash lands. "Our new EP is a loose collection of dream and nightmare sequences. The narrators, proudly unreliable, don their various faces with much bad taste. The bad friend, serial progenitor, shame-wracked voluntary celibate and love-wracked ex-pimp are reading Ecclesiastes on Goodreads together. Their tummies are funny. They are asking themselves, as we ask our own selves: how to defecate up the walls, find our reflections in car windows, stop to tongue-kiss those reflections, run away in grief, break our teeth on a handrail, crawl home to a locked door and somehow still feel sexy"?
Yeah… having already rinsed these squalid new tunes, each more sinister, debauched and psychotic than the last, we'll go with that…
'Children' (above) is one of many highlights – a concoction of caustic riffage, sardonic spoken word and flurries of jazz fusion bedlam. "I can't forgive myself, for what I'm about to do / I'm born again each night, just to see it through", goes the hellish, synth-blasted chorus, which seems to sum up the semi-masochistic circus that is, by all accounts, Opus Kink's live show:
"Seeing Opus Kink live is a sensory overload and is arguably the only way to truly appreciate the magnitude of their impressive songcraft and the unflinching intensity of both their music and their presence" wrote Clash Magazine, before summing up their music as "equally anxiety-inducing as it is sublime".
Expect the dark thrills to be in plentiful supply at Band on the Wall on 19 May – a band like Opus Kink are hardly going to have a quiet one on release day are they…