Izzy Gizmo at Stoller Hall
Shekina Rose, Families Editor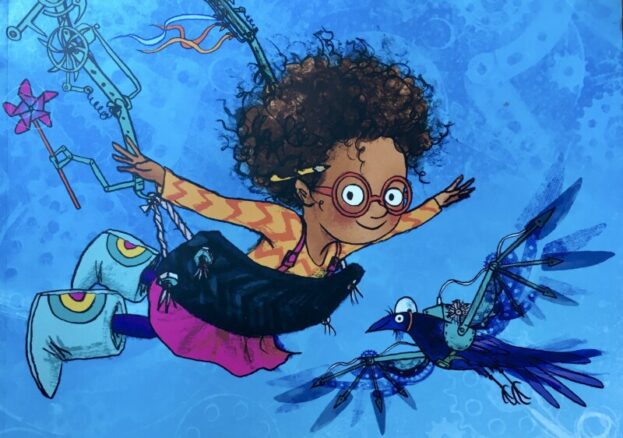 One for the youngest music-lovers, Izzy Gizmo at Stoller Hall presented by Music in the Round brings an energetic, live performance to Manchester. For children aged 3-7 and their families, this is an unforgettable show brimming with music, storytelling and heaps of fun.
Based on the best-selling children's book Izzy Gizmo, written by Pip Jones and illustrated by Sara Ogilvie, families can expect a magical story of a creative young adventurer, Izzy Gizmo, who has come across a crow that can't fly. Can Izzy put her talents to the test to help this poor crow spread its wings and fly once more?
With her clever mind and creative spirit, Izzy's sparky character is a breath of fresh air – brought to life throughout the show with bright, colourful on-stage visuals and intricate storytelling. This magical combination culminates in a delightful and engrossing performance that will make you laugh out loud and wish for more.
Izzy Gizmo features original music by Paul Rissmann, with music and narration performed by Ensemble 360 and Polly Ives. The interactive show provides a fantastic and unique introduction to live music, it includes 11 instruments – strings, woodwind, horn and piano. If you're lucky, you might even see a musician or two making music on clanging pots, pans, whistles and other random household items. As well as being huge fun and a fantastic story, the show is also a great reminder that any item can become a musical instrument. Expect to be tapping those fingers and toes throughout. Bringing music, catchy melodies, invention and storytelling, this is a joyful show packed with loads of opportunities to get involved and make memories with family and friends.
Izzy Gizmo at the Stoller Hall is approximately 50 minutes long, so an ideal length of time to keep the attention of the little ones. Don't miss out on this musical treat – book your tickets today.