Matthew Hedley Stoppard book launch at Otley Courthouse
Sarah-Clare Conlon, Literature Editor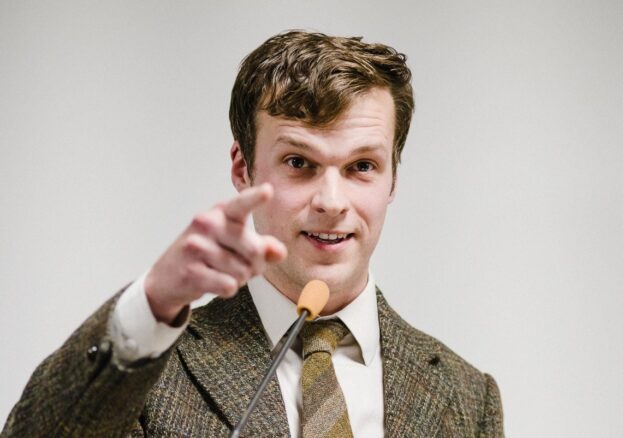 Join Otley Town Poet Matthew Hedley Stoppard in the Courthouse for the belated in-person launch of his second poetry collection The Garland King, out with Scarborough's Valley Press. Forward Prize winner and Radio 4 poet in residence Daljit Nagra says of Matthew's poetry: "I love the unusual combinations of phrase, the constantly shifting and startling imagery, and the depiction of ordinary lives and imaginary moments with genuine vigour."
Creative writing lecturer at Manchester Writing School Helen Mort says: "The Garland King is singular, exciting, wry and anarchic – working-class history meets modern anxiety."
Matthew Hedley Stoppard was born in Derbyshire in 1985. After a brief career as a journalist, he now works as a librarian, and lives in Otley, just north of Leeds, with his wife and two sons. His work has been published by Cake and Magma, among others, and his debut solo collection, A Family Behind Glass, came out with Valley Press in 2013, and was included in the Guardian's Readers' Books of the Year. His latest title, The Garland King, came out last year during lockdown, when he shared an online launch event with fellow Valley Press poet Anne Caldwell. The new book is described as creating "an uncanny space where traditional customs and modern anxieties mix" – Morris dancers, for example, melt in the midst of a climate emergency in one of the pieces, while a mummer mismanages his depression after his child is diagnosed with cancer.
Manchester Literature Festival regular Kate Fox says: "Stoppard's words weave a maypole whirl between grit, imagination, wit and surrealism, in a way which is both deeply relatable and beautifully strange … they do a vital, joyful job in drawing attention to bruised performances of English folk myths, and a working-class masculinity trying to escape its moorings."
Creative writing lecturer at Manchester Writing School Helen Mort says: "The Garland King is singular, exciting, wry and anarchic – working-class history meets modern anxiety. Matthew's poems upend the everyday and examine what falls from its pockets; to say that he finds poetry in these things would be patronising: the poetry is there all along. The trick's in knowing how to listen, how to report back. Reader, you're in safe hands."
In this event, Matthew will be accompanied by music and dancing, and will be joined by acclaimed singer Stephanie Hladowski, BBC Folk Award-nominated duo Louis Campbell and Owen Spafford, and Border Morris side Wharfedale Wayzgoose. The evening will be a celebration of British folk culture, featuring contemporary poetry, evocative instrumental music, seasonal songs and lively traditional tunes.
You can get 20% off copies of The Garland King purchased at the evening.